Kaizer Chiefs
Daniel Cardoso: It's looking the same as last season for Kaizer Chiefs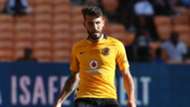 Kaizer Chiefs defender Daniel Cardoso believes the fact that there has been so many draws in the PSL shows how 'tight' the league is this season. 
Last week produced 14 draws out of 16 games, while Baroka have been top of the log for weeks despite not winning in their last five league matches.
"Look, it's a funny situation. Baroka are leading the table but they haven't won in five games, and that just shows the league is very tight, especially with all the draws that have happened over the last week," Cardoso told the media. 
The 28-year-old said Amakhosi just need a single win to get their campaign back on track. Chiefs have struggled to win games on a regular basis, and Cardoso feels things look the same as last season for Steve Komphela's team.    
"For ourselves, we just need to get a win because these draws are catching up with us and it's looking the same as last season. We don't want to get too many draws, we need to start collecting points," he added.
Cardoso also weighed in on the lack of goals in the PSL, and he admitted that South Africa needs strikers, but he also believes a lot more can still be done defensively.  
"If you look at it, most of the draws lately have been 0-0, which shows that we need strikers in South Africa. A lot of people have been speaking about it. If someone can put up their hand and start scoring goals then it's going to be a big thing," said Cardoso.
"14 out of 16 games were draws, and we saw some of the teams coming back from 2-0 down to draw 2-2. So, it also shows we need to tighten up at the back and start scoring up front with the strikers," concluded Cardoso.