Crystal Palace
Crystal Palace boss praises Jordan Ayew and Co. after Saturday's win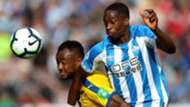 Crystal Palace manager Roy Hodgson has lauded Ghana striker Jordan Ayew for a good showing in Saturday's Premier League victory at Huddersfield Town. 
The summer signing saw out his first full-time of action for The Eagles, who stunned The Terriers 1-0 at Kirklees Stadium.
Ivory Coast attacker Wilfried Zaha, who together with James Tomkins returned to action after some time on the sidelines, registered the only goal of the match on 38 minutes. 
"If we're going to have the season we would like to have, you need quality players and when they're not playing you miss them," Hodgson said. 
"I thought today we were fortunate with those two [Tomkins and Zaha] and to also play Jordan Ayew at centre-forward and bring Cheikhou Kouyate into the team. 
"That served us well today and their work-rate, aggressive and determination meant we were able to control large swathes of the game and keep the ball out of our box, at least for long periods."
The result has taken Palace to 11th on the table. 
"For us it was a very important victory against a team that are notoriously hard to beat, both home and away," Hodgson continued. 
"And it was extra important to us on this occasion because the last time we played against Southampton, we really didn't do ourselves justice. 
"We were nowhere near organised and aggressive in our play as we were today, so it was nice to see us get back to that way of playing, which is something that we're going to need to do in the next 33 games."
Saturday's outing puts Ayew on two league appearances since joining Palace on loan from Swansea City.