Liga MX
Cruz Azul moving Tuesday home game after earthquakes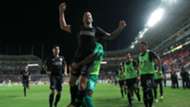 Cruz Azul is looking for an alternate location for Tuesday's Liga MX match against Pachuca after Mexico City officials informed the club it could not play at its usual home venue, Estadio Azul.
All matches scheduled for this weekend were postponed after Tuesday's 7.1 magnitude earthquake in the state of Puebla resulted in dozens of collapsed buildings in the capital with quake-related deaths now above 300. Saturday morning brought more shaking in Mexico City, with a 6.1 magnitude quake taking place in Oaxaca setting off alarms and waking residents of the capital whose nerves already have been frayed after a stressful week.
League action is set to resume midweek, but Cruz Azul announced Saturday it will not be able to play in its normal home. "Due to the earthquake and today's earthquake alert, (Mexico City) is not allowing us to play Tuesday, September 26 in the Azul. The club will look for another site." 
Debido al sismo y #AlertaSismica de hoy, la #CDMX no permitió jugar el próximo martes 26 de Septiembre en el Azul. Se buscará otra sede.

— CRUZ AZUL FC ® (@Cruz_Azul_FC) September 23, 2017
Opened in 1946, the Azul is the oldest stadium in Liga MX. Cruz Azul announced plans to leave the Estadio Azul on a permanent basis and is currently seeking a site where it can build. Like most of the stadiums in Mexico, it was used as a drop-off site for aid items with players and coach Paco Jemez jumping into action to help collect and organize donations.
El DT del @Cruz_Azul_FC "Paco Jemez" en La Plaza México apoyando y solidarizándose con el pueblo mexicano. pic.twitter.com/lwr2KYiO1V

— La Plaza Mexico (@LaPlazaMexico) September 20, 2017
No other first-division matches are scheduled for Mexico City during the week, while Puebla's home contest against Atlas at the Estadio Cuauhtemoc is expected to go ahead without postponement.