NPFL
Crown's Kunle Oyeleye calls Sunshine win a warning to rivals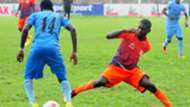 Crown FC's Kunle Oyeleye has stated that their away win against Sunshine Stars in Akure is just to pass a note of warning to their Nigeria National League rivals ahead of the league restart.
Adeyemi Adeyeye scored twice and Christopher Obinna netted the other as the Ajilete Warriors ran the rule on the Owena Whales at the Ondo Sports Complex on Sunday evening with Asamoah Godbless scoring a consolation goal for the hosts.
The club's secretary disclosed that they have been playing lots of friendly games through the mid-season to keep the players busy and also to ensure that they do not relent in their quest to remain match fit ahead of the resumption.
"It was a good game by the players. It was because we wanted to keep them busy that made us organize the friendly with Sunshine Stars," Oyeleye told Goal.
"We didn't take the game more than a friendly game but we told the players that they could use it to pass a message to our opponents in the lower league that we mean business in our determination to return to the top-flight. The result of the tie with Sunshine Stars didn't come by accident.
"The players have kept on working harder and the number of friendly matches we have played showed that we would like our players to remain fit and ready for the continuation of the league. What we have shown against Sunshine is just a sample of what we have in our reserves."   
He said it is important they maintain their current top spot in their National League group in their march towards another stint in the top-flight at the end of the season.
"We are still leading in our National League group ahead of Remo Stars, Osun United, Delta Force, Delta Stars and others. It is vital we maintain it until the end of the season," he added.
"We have made a giant step towards that with the way we have started the season but we can't afford to relax at this point. It was the major reason we have organized a series of friendly games to keep the team competitive."