Portugal
Cristiano Ronaldo inspires Euro 2016 porn movie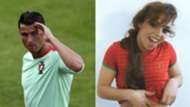 Cristiano Ronaldo is set to be subject of a new Portuguese porn movie called 'The Ronaldas' set to be released to coincide with Euro 2016.
The Real Madrid No.7 is the most searched footballer on the world's largest adult website, Pornhub, and Portuguese rival Pornlowcost have decided to try to lure those who prefer football to involve full penetration.
"Everybody is talking about the Euros so we thought 'why not take advantage of this wave of interest?'" porn producer Carlos Ferreira told Correio da Manha .
"Ronaldo is a player known around the world and this will help us to sell content globally."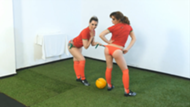 The movie comes with the tagline: "Attacking or defending, the Portuguese pornstars are up for any opponent and, with them, the Euros are in the bag."
It will star adult actresses Scarlett Johnson, Sonia Kel and Diana and male pornstars Frank Stone and Alex Pinna – none of whom are safe to Google if you're under 18 years of age.
Fans desperate to see Ronaldo in the buff will be disappointed as he has absolutely no involvement with the film, instead preparing to captain Portugal at his fourth European Championship finals.