Chelsea
Conte: Replacing Terry has been hard but Cahill deserves to go to the World Cup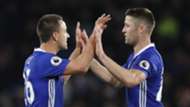 Chelsea manager Antonio Conte admits it has not been easy replacing former captain John Terry's leadership skills within the club, but still feels new skipper Gary Cahill has the right experience to have a great World Cup with England.
Cahill wore the armband several times for the Blues last season as the ageing Terry was resigned to the bench, but saw himself dropped from the starting XI for a spell this term.
The 32-year-old is enjoying a resurgence of late, though, starting the last four games for the Stamford Bridge side after having only started one league match since February 5.
And while Conte acknowleges is has taken more than just one player to replace the void left by Terry, the Italian boss believes Cahill's recent performances should see him reinstated to Gareth Southgate's first-choice XI after having been omitted from England's friendlies in March.
"It wasn't simple replacing John Terry because we are talking about a great leader," Conte said, "It's something you have in your blood.
"I think Cahill developed a lot this year, but we have three or four players who take responsibility, who try to lead the team.
"Cahill deserves to be [at the World Cup], because he's playing well. He's in good physical condition. We're talking about an important player with great experience – he's played in big competitions.
"To play in the World Cup on European Championships, it's important to have players with great experience because the pressure will be strong for everyone. I think Gary deserves to play."
"But, at the same time, I have always shown great respect for Southgate. I think he's a really good manager. He has to make the best choices for the national team and I'm sure he'll make the right decision."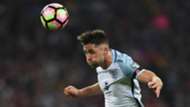 In more domestic matters, Chelsea are five points behind Tottenham as they aim to overcome their rivals with four games left to play.
They face Swansea City on Saturday evening and Conte thinks his side must win every game if the Blues any hopes of sealing a top four place. 
"It won't be easy," he said. "The only way for us to have a hope of a place in the Champions League is to take three points from every game.
"Tottenham are a really good team. I like the way they play - and it can happen, to have bad results for a short period. But they have played [Manchester] City and United in the last three games, and drew at Brighton. 
"It will be very difficult, but we have to push and try to put a bit of pressure on. The only way to do this is to win at Swansea tomorrow. We have to try to finish the season in the best possible way.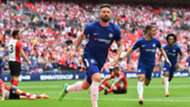 "In this moment, we don't have a priority. We know that, for the second time in a row, we have an opportunity to win [the FA Cup]. This is very important for the club, our fans and the players.
"At the same time, we have to try and finish the league in the best possible way. It won't be easy to take a place in the Champions League because we dropped many points in a stupid way, but we have a hope."