Andrew Jean-Baptiste
CONCACAF Watch: Andrew Jean-Baptiste hoping for more after helping Haiti stay in Gold Cup mix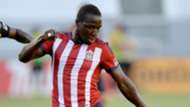 Andrew Jean-Baptiste is not a goal-scoring specialist — at least he didn't use to be. The central defender might have opponents in the Caribbean thinking differently though, after he scored in each of Haiti's matches in this month's round-robin Caribbean Cup playoff.
The New York native has represented his parents' homeland since 2015, but saw his first major minutes for Les Grenadiers this month as they looked to book a place in a playoff to qualify for the Gold Cup. To do that, they had to get past Suriname and Trinidad and Tobago. Haiti dominated Suriname but allowed two late goals in a 4-2 victory. That meant Haiti would advance with a win, a draw or a defeat by fewer than two goals against Trinidad and Tobago thanks to goal difference.
And after scoring in the 42nd minute against Suriname, Jean-Baptiste doubled his international goal total with an extra-time header in a wild contest against the Soca Warriors, giving Haiti the 4-3 victory and confirming the team's passage into the next stage of qualification.
"It was pretty surreal for me. When the first one happened it was kind of like, 'Whoa!' And when the second one happened, it being the winning goal, it was kind of like, 'WHOOOOOOA!'" Jean-Baptiste told Goal USA. "I had to take a step back and look at everything just, like, wow. But these things are not done without your teammates.
"With the players that we had, the great players that they are, some were missing on both teams, but we got the job done and that's the most important thing. When you score goals contributing to a win, it means a lot. As a defender, I'd rather have a clean sheet and we win a 1-0 game, but that's not to take away from a winning goal because I'll take that as well."
1st international goal for my country. In T&T. 2017 starting off pretty well. #16 holding it down. I'm keeping that jersey lol pic.twitter.com/EWH5wlWnVc

— Andrew Jean-Baptiste (@ajeanbaptiste92) January 7, 2017
Now, Jean-Baptiste is hoping to become a fixture of a Haiti team in transition. While the country has seen triumphs in recent years, including a trip to the 2015 Gold Cup quarterfinals and qualifying for the 2016 Copa America Centenario, elimination from World Cup qualifying sees the team turn a page. Kim Jaggy and Jean-Jacques Pierre, who have been fixtures at center back for Haiti, are coming to the end of their international careers. That means former MLS defender Jean-Baptiste, currently playing his club soccer in Sweden with Nykopings, could take on a much more significant role.
"Our vice president of the federation included me as part of the core guys of this national team and going on further in the future," Jean-Baptiste said. "I mean, with that being said, when I heard him say that I had a warm feeling in my heart to be considered as a core guy for your country. I think it means a lot, it's definitely a step forward."
Haiti now awaits the fifth-place team from the Copa Centroamericana for a two-legged playoff to decide which team will move into this summer's Gold Cup. Jean-Baptiste hopes to be part of that squad as well, saying he's working on his Creole and French to better integrate with a group where he already feels welcome.
"For the most part, my Creole is good when we're talking about football. That's where my Creole is at its prime. As far as day-to-day conversations, that's where it has limitations. I can pick up little conversation at the table with teammates and get a few chuckles but whenever they go into the full dialects back at home that's where I'm a little bit out of it. Only in time, I'll be a part of it. Even so, a lot of those guys speak English," he said. "That language barrier is not ever something that keeps us apart or separates us, and that's the part I like about our team"
First week of 2017 in Trinidad and Tobago.

Photo Cred:@detienne_10 pic.twitter.com/HApzz8qPAV

— Andrew Jean-Baptiste (@ajeanbaptiste92) January 5, 2017
Another plus is the passion the players and coaching staff have, Jean-Baptiste said. With the Caribbean Cup rules preventing draws, matches that are level after 90 minutes go to extra time and then penalty kicks. As the final whistle of regular time against Trinidad and Tobago approached Sunday and the score sat at 2-2, Haiti could have intentionally scored an own goal to lose the match but advance on goal difference. The situation brought to mind the famous 1994 Caribbean Cup qualification match between Barbados and Granada in which both teams attempted to score in their own net over the course of the match.
But Jean-Baptiste said that while he and his teammates were aware of the quirk, they preferred to finish things out in a more traditional manner.
"We easily could've just turned around in the 90th minute, scored an own goal and been done with it all and still qualified, but once again there's too much respect and pride for anybody on that bench or on that coaching staff to ever accept that," he said with a laugh. "When I first got there and I was talking to one of the managers, he mentioned the Caribbean rivalries that we have with Jamaica and Trinidad. In the last three matches, well, four matches now, we've beaten them. So an own goal, taking a loss like that? It would've been unacceptable."
The pride speaks to the increase in level Haiti has seen recently, and Jean-Baptiste hopes regular success will convert into expectation for a team on the rise.
"The expectation for us, obviously has gotten higher because we made it to the Gold Cup quarters, then after that qualifying for Copa America. The results didn't go our way in a couple of those games, but it gave our country hope and it showed that we're able to compete," he said. "We just need to do a little bit more where we can start getting results in this tournament. You know what? The players that we had that were big time players and with the younger guys coming in, they have big shoes to fill but I feel like they're going to fill them up pretty well.
"I just look forward to making as many tournaments as possible as long as I'm with this national team. I don't want to be one of those countries that it's a dream. It's more something that's expected of us."