América
Club America sporting director Pelaez leaves club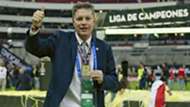 Club America sporting director Ricardo Pelaez announced Wednesday he is stepping aside at the end of the season, but the club annouced Friday that he already had departed.
Pachuca leans on home-field advantage in CCL
Pelaez said Wednesday the decision was personal and not related to pressure from club owner Televisa, but rather the right time for him to step aside. And the former America, Necaxa and Chivas forward said he hoped he would be able to go out on top.
"To recharge the batteries a bit, to rest for a minute and to wait for new challenges," Pelaez told reporters when asked why he made the decision. "That's the message that I want to send the fans, first of all, and to thank them for this permanent support and solidarity with the team. But I want to leave as a champion, and I'm going to leave as a champion with these players and this coaching staff."
However, Club America president and Grupo Televisa vice president of sports Yon de Luisa announced Friday that Jose Romano is now in charge of all personnel decisions after Pelaez moved up his departure date
"I came today to talk to the team after the public declarations of Mr. Ricardo Pelaez in which he announced his departure from Club America," De Luisa said in a news conference Friday. "For me, it was a surprise. Mr. Pelaez confirmed his exit with the update that it will be effective from today and not at the end of the tournament."
The Pelaez era with Las Aguilas will be looked back upon as a successful one. With coaches Miguel Herrera, Antonio Mohamed, Nacho Ambriz and current manager Ricardo La Volpe, Club America won four trophies during Pelaez's tenure — two Liga MX crowns and a pair of CONCACAF Champions League triumphs.
But the team has struggled to reach the summit since the 2015-16 CCL title, finishing runner-up to Tigres in the 2016 Apertura after a slow start that saw Ambriz given his marching orders in the club's centennial season, and finishing fourth at the Club World Cup.
Why Kaka still tops MLS salary chart
Pelaez said if America comes calling again, he wouldn't rule out a return to the club but for now is looking forward to spending time with his family and seeing what other opportunities present themselves.
"Club America thanks Ricardo Pelaez for his dedication and work during the time he held the role of Sporting Director of the club," a club news release read. "The institution wishes him the best for the future both in the personal and the professional."
America currently sits sixth in the table but needs just one point from its final two regular season matches to finish in the top eight lock up a postseason spot.