Premier League
Clinical Chicharito can save West Ham's season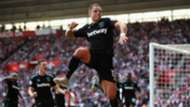 West Ham have endured a disastrous start to the Premier League season.
After riding a wave of transfer-fuelled optimism throughout the summer, Slaven Bilic's side are bottom of the table after two games, losing their opening games 4-0 to Manchester United and, painfully, 3-2 to Southampton.
Thus far, Bilic's team look bereft of defensive organisation, despite signing former Manchester City team-mates Joe Hart and Pablo Zabaleta over the summer. In midfield, the Hammers are weak and easily bypassed. William Carvalho, of Sporting Lisbon, would be a smart addition, but the Portuguese club are dragging their heels over setting a price for the Portugal international, and hope to retain his services.
Meanwhile, the signing of Marko Arnautovic – a player who has always prized style over substance – has done little to change the club's reputation as the laughing stock of the English transfer window, especially following his idiotic sending off for a barbaric elbow against the Saints. Barcelona may have stolen the crown worldwide – even West Ham did not think to spend €40 million on Paulinho – but the Irons surely have no rival when it comes to signing flops in England.
There is, however, an outlier. When rumours appeared linking the Hammers with a £20m bid for Javier Hernandez, of Bayer Leverkusen, those inside the club were keen to play down the prospect of any kind of bid. The theory was that Hernandez wanted to play for a Champions League club, and increase his pay packet in the process. Tabs were kept, but the club turned their attentions to more "attainable" targets.
Chicha 9/1 to score 2+ Saturday
Ironically, two of the players shortlisted – Olivier Giroud of Arsenal and Chelsea's Michy Batshuayi – look set to stay at their current employers, while Kelechi Iheanacho moved to Leicester City for around £20m after Bilic vetoed a deal at the last moment.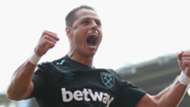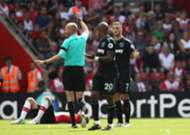 And thus, attention returned to Hernandez, who had not yet been the subject of a bid from a bigger club, and remained keen to leave Leverkusen. Exploratory talks proved fruitful, and the club subsequently cooled on Giroud – believing he would either join Everton, or sign a new contract. Focus was solely on Chicharito, and a contract was drawn up for around £140,000-per-week, with Bilic then claiming that he was always the club's "top target" throughout the summer.
That is a white lie, but Hernandez may prove to be a top signing, bringing both genuine class and a winner's mentality to the London Stadium.
While he was isolated against Manchester United, Hernandez scored two trademark goals against Southampton, each from inside the box, to give the Hammers hope of picking up their first points of the season. Only a last minute penalty denied them.
He has pedigree in the Premier League, scoring 59 goals in 158 appearances for Manchester United, and boasts one of the best minutes-per-goal ratios in England.
West Ham have a terrible record of buying strikers, signing 32 under David Gold and David Sullivan prior to the opening of this summer transfer window, with the likes of Savio Nsereko, Nikica Jelavic and Ilan the nadir in a particularly woeful list.
Hernandez, though, is the diamond in the rough, a striker with the ability to win clubs – from Chivas to Real Madrid – points on his own, and he could prove to be a game-changing signing for Bilic's men.
Indeed, the club currently appear to be in dangerous waters, with reports suggesting that those upstairs are already looking at potential replacements for the Croatian manager.
The slide must be halted soon, and Hernandez is a player with the talent to turn the club's fortunes around. Bilic has finally managed to sign a truly excellent striker, and he may prove to be his, and West Ham's, savior.