CSL
Chinese footballer docked his wages for an entire season after crazy Witsel stamp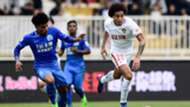 Shanghai Shenhua have dished out a heavy sanction to midfielder Qin Sheng after his red card for deliberately stamping on Axel Witsel during a Chinese Super League fixture.
The Belgium international tumbled to the ground after being on the receiving end of some rough treatment from his opponent as the pair clashed in the penalty box while waiting for a corner.
WATCH: Miura is world's oldest scorer
And Shanghai have now announced that Sheng will be fined ¥300,000 (£35,000) and have his wages docked for the rest of the season.
He will also be forced to train with the reserves and the club will block any transfer request should he decide he wants to leave before his contract runs out.
Speaking about the incident, club president Wu Xiaohui hit out at the midfielder and insisted that he had been warned about his conduct prior to the game.
He said: "The extremely irrational behaviour of Qin Sheng has severely tarnished the image of this club, the football of Shanghai and even Chinese football.
"All the efforts made by others have gone down the drain because of him.
CARTOON: Memphis mocks Mourinho
"Given Qin Sheng was shown a yellow card in the season opener, we intentionally warned him over his poor on-field behavior before the game. However, our repeated warnings have not prevented this happening.
"I don't think he was just caught up in the heat of the moment. Instead, it's a flagrant violation of the club management."
Shanghai Shenhua are currently fourth in the CSL table after two matches having drawn 1-1 with Tianjin Quanjian in the game that saw Sheng dismissed, with Witsel scoring the late equaliser.