Chelsea
Chelsea lost their title in the summer transfer window, says Chris Sutton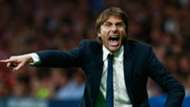 ---
EXCLUSIVE
---
Chris Sutton thinks Chelsea are already out of the Premier League title race after a 2-1 defeat to Crystal Palace left them nine points behind league leaders Manchester City — and he blames the club's efforts in the summer transfer window. 
Chelsea brought in the likes of Alvaro Morata, Tiemoue Bakayoko and Antonio Rudiger over the summer and added Danny Drinkwater and Davide Zappacosta on transfer deadline day at the end of August. 
They sold Nemanja Matic, Diego Costa and Nathan Ake, while injuries to N'Golo Kante and Alvaro Morata have coincided with a downturn in form. Former Chelsea striker Sutton believes that the transfer window left Antonio Conte short on the tools needed to retain their title this season. 
"Chelsea normally respond to adversity," BT Sport pundit Sutton told Goal. "They have done that under Conte but Chelsea's season, this season, fighting on two fronts always did depend on the business they did in the transfer window.
"They didn't strengthen as they should have done and that's where the fault lies now. Who does that fault lies with in the club? Is it the manager? Or was he given the funds? Did he want to sell Nemanja Matic to United? Not from the reports that I have read.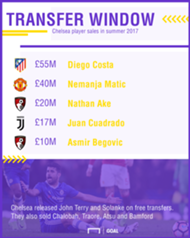 "These are all issues, but that's where the faults lie. It may be too late [to fix it] in January's transfer market. The logical thing to do may be to bring someone in. United and City did their business in the summer, but if you're a Chelsea fan you must be thinking, 'We are Premier League champions, how are we in this position?'
"I think that they will be focused on every competition. They have to be. You might see Conte tweak the line-ups in the domestic cups, but I think the Premier League has gone for Chelsea now, I do. Are they strong enough to win the Champions League?
"You have to say that is going to be extremely difficult, not impossible, if they get their first XI on the pitch but there are sides that seem to be more capable than them. That means the domestic competitions have more importance."
Sutton himself was once considered a high-profile signing for Chelsea and signed for the club in 1999 for a fee of £10 million from Blackburn Rovers. The television pundit struggled to adapt at Chelsea and he was quickly sold to Celtic, where he revitalised his career. 
The former striker sympathises with Michy Batshuayi's struggles after he was substituted at the weekend in the 57th minute for Pedro. He thinks that Conte doesn't trust him and that has had an affect on his form when he has started in games. 
"Conte doesn't rate him as highly as Morata, that is absolutely clear," Sutton added. "Conte doesn't think he is an adequate replacement as he wouldn't have put Hazard [with Willian] on against Manchester City. He left Batshuayi on the bench so Batshuayi will feel that as well and may be short on confidence. It is an issue.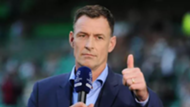 "He replaced Costa with Morata. If you look at how many games he started over the past four seasons, Morata is not somebody who has played in an abundance of games. Should they have brought another striker as well as Morata? I think it's fair to say that they should have done.
"The first thing is that Antonio Conte fell out with Diego Costa but he was still one of the first names on the team sheet, whether he liked him or didn't personally. He used him in the second half of the season and rated him.
"Antonio Conte has faith in Morata and you can see why in his performances this season but then in Batshuayi, the manager doesn't have the faith. It is a big pressure playing at a big club like Chelsea but he wasn't the focal point at the weekend.
"It is a huge problem that Chelsea have. It comes down to recruitment and Chelsea didn't recruit well enough. It is his all-round game. Whether it is goals or assists but he looks a player, that when he scored the goal versus Atletico Madrid, you expected him to go on and come to life and be confident.
"He may be going into games thinking that the manager doesn't want to start me. He was well off the pace at the weekend but at Chelsea the players feel they can rely on Morata. It is hard for Batshuayi but you don't feel like they can trust him like they do with Morata."
BT Sport is where the best go head to head. Watch Chelsea v AS Roma exclusively live in the UEFA Champions League on BT Sport 3 from 7pm on Wednesday 18th October.