Transfers
Chelsea & Man Utd target Arnautovic doesn't want to leave West Ham - Cole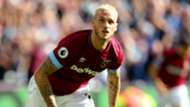 Marko Arnautovic is not looking for a way out of West Ham despite attracting interest from Manchester United and Chelsea, claims Carlton Cole.
The Austria international has impressed in the Premier League since linking up with Stoke City in the summer of 2013.
He was taken to the London Stadium as part of a £20 million deal in 2017 and has delivered 16 goals in 46 appearances for the Hammers.
Those exploits are said to have caught the eye of rivals at Old Trafford and Stamford Bridge, with another big-money move being mooted.
Arnautovic has sought to avoid being dragged into a debate regarding his future, as speculation rages around him, and Cole believes the 29-year-old is prepared to remain in his current surroundings.
The former Hammers striker told Sky Sports: "Do you know what, he's happy at this club. I don't think he's looking actively to go and leave. He's loved here.
"I don't see any reason why he should be leaving the club. Everyone knows what he's capable of here and I think we'll see him stay.
"If he does go, it will be a great loss to West Ham, but we always find a way to carry on. We always do.
"I don't want him to leave. I don't think the club will let him leave, because he's our main player."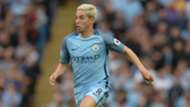 While hoping to see Arnautovic stay put, Cole is also looking for West Ham to bring more creativity on board.
Manuel Pellegrini is said to be exploring the option of signing Samir Nasri once his doping ban comes to an end on January 1, with the pair having previously tasted Premier League title success together at Manchester City.
Cole believes the 31-year-old Frenchman would be a shrewd addition, saying: "I think the manager has a good relationship with him.
"We know his class, he's a classy player.
"He will bring something different to the squad and he has that experience too.
"It will be a great addition to the squad but it depends what the manager wants and what the owners want."
Former Arsenal and City star Nasri has been without a club since agreeing to the mutual termination of his contract at Turkish side Antalyaspor in January.