Super League
Charles Omondi: Police were poor against Kangemi All Stars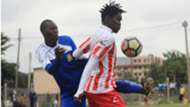 Police FC suffered a shock 2-0 defeat against Kangemi All Stars in a National Super League match on Wednesday.
A brace from Olesu Tittieh was all the hosts needed to get maximum points from the out of form law enforcers and bag valuable points. Head coach Charles 'Korea' Omondi was left disappointed and fuming with anger following the result.
"Honestly, we did not turn up for the match, we were just lost, we did not play as we usually do and ended up suffering. This is a match we could have won, but we just did not do the right thing and paid the price. The midfield was lost, the balls were lost easily and we wasted the little chances we had.
"We now have to go back and work on it and ensure we bounce back in our next match," Omondi told Goal.
Police are currently placed in the seventh position with thirty-five points.