Chapecoense
Chapecoense name two plane crash survivors in Copa Libertadores squad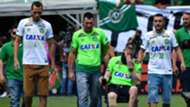 Chapecoense have named Neto and Alan Ruschel, two of the survivors of the tragic plane crash which decimated the club, in their Copa Libertadores squad.
In November 2016, a total of 71 people lost their lives while travelling to Colombia for the Copa Sudamerica final.
Chape net first goal since tradegy
The trophy was awarded to the Brazilian club without contesting a meeting with Atletico Nacional.
Chape have rebuilt in the wake of a tragedy which saw them lose the vast majority of their playing, coaching and support staff.
Of the six people who survived were three players - goalkeeper Jackson Follmann, defender Neto and winger Ruschel.
How Chapecoense united the world
Two of those have been included on a 30-man list presented to CONMEBOL ahead of the 2017 Copa Liberatodres.
Neto and Ruschel are not part of the travelling party due to face Zulia FC in Venezuela on Tuesday, as they continue with their respective recoveries, with it yet to be decided whether they will return to professional football.