International Champions Cup
Chance for PSG fans in Malaysia to see the team LIVE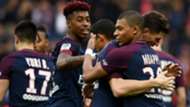 PSG fans in Malaysia are in for a treat this coming July as the League 1 champions will be just across for the causeway for the International Champions Cup.
Thomas Tuchel will lead his new team in matches against Arsenal (July 28) and Atletico Madrid (July 30) at the National Stadium in Singapore in one of the legs of the 2018 edition of the ICC.
The German will be preparing his team for the important Trophee des Champions against Monaco on August 4, in a match that will be played in Shenzhen, China.
PSG Fan Club Malaysia will be organising a trip down to Singapore from Kuala Lumpur on July 28 to watch the game against Arsenal where PSG will come up against their former head coach in Unai Emery.
"We have prepared a special trip with the return bus transportation fully funded by PSG itself. There will be plenty of activities planned as well a nice surprise being prepared for the fans who joined us in the trip."
"Once we are there, PSG have also arranged for the club TV channel to film us and interview some of us. This is a great opportunity for PSG fans in Malaysia to get up close and personal with the great club," said Ahmad Feisal, the co-president of the fan club.
Together with Emmanuel Miranda, they shared the duty pertaining to the fan club and are working tiredllessly to ensure that this is a trip to be remembered. 
While the squad may differ a little depending on how far PSG players advance with their respective countries in the World Cup but the are still plenty of stars for the fans to look forward to in the likes Marco Verratti, Adrien Rabiot and Javier Pastore.
Seats are still available for the once-in-a-lifetime trip and more information can be found at https://www.facebook.com/PSGFANCLUB.MY