African Nations Championship
CHAN 2018: Congo vs Libya: Red Devils hoping to continue their perfect run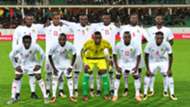 Congo will be aiming at yet another upset on Sunday when they take on Libya in the quarterfinals of the 2018 African Nations Championship at Stade Adrar in Agadir.
The Red Devils, who are making their second appearance in the competition, have sent threat signals to many at the tournament. They began their impressive run after eliminating defending champions Congo DR in the final qualifying round and topped Group D which consisted of Cameroon, Burkina Faso and Angola with seven points.
Now, they have to surmount the bulwark defence of Libya, who won the 2014 edition. After winning their opening game 3-0 against Equatorial Guinea, the Knights were pegged back to a 1-0 defeat to Nigeria and required a late winner from Elmutasem Abushnaf against Rwanda to finish behind the Super Eagles in Group C.
Libya boss Omar El Maryami is aware of the threats Congo possess but believes his charges won't underrate them despite their inexperience at this stage.
"We've all seen how Congo have surprised many countries including the winner of 2016 so we will be very careful with our approach," Maryami said.
"We want to qualify and therefore must minimise the mistakes we committed in the group stage. I trust my players and hopefully, we can go over this hurdle before we think about the next game," he added.
Even if Congo get eliminated at this stage, coach Barthelemy Gatsono believes it would be hard to accept but at least they have equalled their previous record.
"In 2014, we got eliminated at this stage but we want to improve this time," Gatsono said.
"We want to achieve something big with this crop of players so our aim is to win and progress. We will be disappointed with a defeat since it means that we were only able to equal the previous record," he added.
The winner of this fixture will face hosts Morocco in the semifinals on January 31 at the Stade Mohamed V in Casablanca.