UEFA Champions League
UEFA Champions League: Watch the best goals from the group stages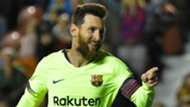 The UEFA Champions League is into its exciting knockout stages. 
32 teams toiled it out in eight groups to make it the knockouts in the group stages and 16 have managed to accomplish the feat. 
All the big teams from across Europe's top five leagues have made it including the likes of Juventus, Liverpool, PSG, Manchester City, Barcelona, Manchester United, Real Madrid and Bayern Munich.
We witnessed some spectacular matches which produced brilliant goals. We bring you the best of those goals in this feature. 
Feast your eyes on some spectacular strikes from the likes of Cristiano Ronaldo, Neymar, Ivan Rakitic, Lionel Messi, Leroy Sane and company. 
Watch them here.