Chelsea
Cesc Fabregas desperate for more FA Cup glory - after losing first winner's medal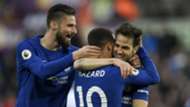 Chelsea star Cesc Fabregas has revealed his extra motivation ahead of the FA Cup final: winning a medal to replace the one he previously lost! 
Fabregas finished on the winning side for Arsene Wenger's Arsenal back in 2004-5, when the Gunners overcame Manchester United, Chelsea's opponents at Wembley on Saturday, in the final. 
Patrick Vieira proved the difference by scoring the winning Gunners penalty after a 0-0 draw, marking Cesc's debut season with a trophy as an 18-year-old prospect. 
Unfortunately, however, he later misplaced his medal and is yet to track it down. 
"This one, I cannot find it," Fabregas told reporters on Friday.
"I promise. My dad used to keep them and once I grew up, one day I said, 'Listen, where are all my medals and stuff?'
"He nearly lost the World Cup one even! It was in my mum's house in a box. I have nearly all of them but I've lost two or three.
"I found [the World Cup] one. But this FA Cup one, I cannot find it."
The FA Cup is seen as merely a consolation prize for Chelsea after relinquishing their Premier League title and failing to qualify for the Champions League - but Cesc affirmed that all the Blues players were desperate for victory. 
"To be honest, to go and win a trophy is not that easy. Nowadays, how many top teams that are in Europe and you see at the end of the season, a lot of them do not win anything. Maybe they are close, maybe not. It is not easy to win titles in the league. In the Champions League, you play against Barcelona, they are one of the top teams in the world. You can win, you can lose. That can happen. In the FA Cup, we have done well.
"In the league, it is a little bit where we should have done better, we were not consistent enough in our performances and there is no explanation why one day we can be very good, one day after we are just not good enough," he added. 
"This is on us as players. We should have put it right when we had the chance to do it. We didn't and we paid for it. It is a big disappointment, I'm sure for the club as well, because they want to be and are used to being in the Champions League every year.
"All we can do now is go on, win the final and give the fans a good end of the season."