MLS
Cascadia clash, Red Bulls-Crew highlight MLS conference semifinals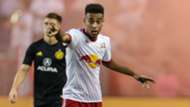 When the knockout round of the Major League Soccer playoffs saw three of four lower seeds knock off their higher-seeded opponents, an initial thought may have been that it could lead to some mismatches in the next round of the playoffs. The reality is that those results have set us up with four series that are all capable of producing tougher than expected match-ups for the favorites.
Real Salt Lake was arguably the biggest surprise of the knockout round, eliminating highly-rated Los Angeles FC on the way to setting up a conference semifinals clash with Sporting KC. A sixth seed taking on a one seed might not normally provide much intrigue outside of an identifiable derby, but RSL and Sporting KC have quietly forged a heated rivalry through years of tense encounters.
The Columbus Crew aren't being given much of a chance against the Supporters' Shield winning New York Red Bulls either, but to overlook the Crew's chances is to ignore both the recent and longer-term history of the rivalry. The Crew are the only team the Red Bulls played multiple times and had a losing record against in 2018. They also haven't won at MAPFRE Stadium since 2015. The Crew's possession style has held up well against the Red Bulls' stifling high press, setting us up for what could be another memorable playoff battle.
New York City FC heads into its series against Atlanta United considered an underdog, but the reality is that now that NYCFC is back to full health, the margin between the two attack-minded team is virtually non-existent. The two teams played to a pair of draws this season, and their semifinal duel should be that close once again.
Then you have the Cascadia Derby, which features a Seattle side seeking a third straight trip to the MLS Cup final against a Portland squad trying to make it back for the first time since winning the MLS Cup final in 2015. The Sounders may go in as a slight favorite, but when you get rivalries playing out in the playoffs, anything is possible.
Here is a closer look at all four conference semifinal series, which all kick off on Sunday:
---
NEW YORK RED BULLS vs. COLUMBUS CREW
---
SCHEDULE: at MAPFRE Stadium, Sunday, 3 p.m. ET; at Red Bull Arena, Nov. 11, time TBD.
SEASON SERIES:  1-1 draw at MAPFRE Stadium on June 9; Crew 3-2 win at Red Bull Arena on July 28.
OUTLOOK: The battle of styles features the Crew's possession-oriented attack against the Red Bulls high-pressing system. The Red Bulls are at a considerable advantage heading into the series because the Crew are coming off a grueling penalty shootout win against D.C. United on Thursday and will only have two full days of rest before taking the field at MAPFRE Stadium. 
The Crew beat the Red Bulls at home back in July, but it should be noted the Red Bulls didn't start Bradley Wright-Phillips, Kaku or Kemar Lawrence. Wright-Phillips and Kaku entered as halftime subs with the Crew leading 3-0, and helped pull it back to 3-2.
Their meeting earlier in the year, a 1-1 draw in June, was also missing key players. Wil Trapp, Zack Steffen, Tyler Adams and Tim Parker were all with the U.S. national team for its 1-1 draw with France, while the Crew's Jonathan Mensah, Red Bulls' Kaku and Michael Murillo were also on international duty.
The Red Bulls will have their full-strength squad for Sunday's first leg and will be banking on the tandem of Adams and Sean Davis stifling Federico Higuain, who was the star for the Crew in Thursday's win over D.C. United. Adams's tireless engine and Davis' smart positioning are key to the Red Bulls' ability to stifle opposing playmakers, which will put more pressure on the Crew's flanks providing service.
The Crew are good with that, boasting the dangerous fullback tandem of Harrison Afful and Milton Valenzuela, who provide some of the best wing service in the league. The Red Bulls counter with their own top-notch fullback tandem of Kemar Lawrence and Michael Murillo, who have the defensive quality to stifle the Crew's wingers, especially if Pedro Santos is unable to recover from the ankle injury he suffered against D.C. United.
Defensively, the Crew showed against D.C. an ability to neutralize top creators, having limited the D.C. United tandem of Wayne Rooney and Luciano Acosta. The Red Bulls pairing of Wright-Phillips and Kaku will be the target this time around, and the pair thrive on the turnovers their teammates cause high up the field. The Crew midfield must be clean with the ball to limit those dangerous counterattacks because Wright-Phillips and Kaku won't miss their chances.
The Red Bulls have clear advantages in central defense and at forward. As good a season as Gyasi Zardes had this year for the Crew, knocking in 19 goals, he isn't as clinical as Wright-Phillips and he'll be facing a much tougher defensive tandem in Tim Parker and Aaron Long. That edge, along with the fatigue factor in the first leg, and Adams' ability to stifle Higuain, will give the Red Bulls a chance to exact revenge for their 2015 conference final loss to the Crew.
---
ATLANTA UNITED vs. NEW YORK CITY FC
---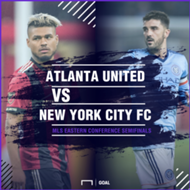 SCHEDULE: at Yankee Stadium, Sunday, 7:30 p.m, ET; at Mercedez Benz Stadium, Nov. 11, time TBD
SEASON SERIES: 2-2 draw at Mercedez Benz Stadium on April 15; 1-1 draw at Yankee Stadium on June 9.
OUTLOOK: The last time these teams met was way back in June, but that match-up could offer us a good idea of how the series could go, particularly in the first leg. Not just because it's also being played at Yankee Stadium, but because it was at a time when both teams were close to full strength.
The teams played to a 1-1 draw in that June meeting, but NYCFC dominated play, out shooting Atlanta 25-5 and holding a 60-40 possession advantage. NYCFC did well to contain the playmaking tandem of Miguel Almrion and Ezequiel Barco that day. The tight confines of Yankee Stadium's small field doesn't give players like Almiron and Barco much room to operate, and neither will the presence of NYCFC midfielders Yangel Herrera and Alex Ring.
Both teams deployed three-man defenses that day, which is what we stand a good chance of seeing again in Sunday's first leg. A big difference in Atlanta United is the presence of defensive midfielder Eric Remedi, who gives the Five Stripes midfield some much needed bite and work rate behind the playmakers. He will be particularly important in the return leg in Atlanta, where you would imagine Atlanta will look to open things up and throw numbers at NYCFC's defense.
How healthy is Almiron? That's the big question heading into the series. He missed the final three matches of the regular season with a hamstring injury, and returned to training on Tuesday. It remains unclear how close to 100 percent he will be by Sunday, and if Tata Martino will gamble with rushing him back. If Martino plays it cautious and sits Almiron, then Barco and Darlington Nagbe will be picking up the playmaking duties Sunday's first leg.
NYCFC did relatively well dealing with Josef Martinez in 2018, holding him to one shot on goal (which he scored on) in 180 minutes. If Almiron is healthy, it will be tough to keep Martinez contained at that same rate in this series.
Atlanta's defense will have its hands full with NYCFC, particularly on the flanks, where head coach Dome Torrent has a wealth of options. His decision to move Ronald Mataritta into a left wing role after he lost his left back job to Ben Sweat has made NYCFC tough defensively on the left side of the field, which is crucial against an Atlanta attack that features Julian Gressel and Hector Villalba as right wing options. That match-up is where the series will be decided, because if Gressel and Villalba can't provide steady service, Martinez could be in for some long days.
A big plus for Atlanta is the return of veteran left back Greg Garza, who returned to action in the regular season finale against Toronto FC. It's unclear if he's capable of starting, but he would be a considerable upgrade over Chris McCann if he can play 90 minutes, and left back is a big role in this series because NYCFC boasts Jesus Medina and Ismael Tajouri-Schradi as right wing options capable of breaking a game open.
Atlanta United is a slight favorite, but Almiron's uncertain health status makes this series pretty much a toss-up, and it will come down to which defense can avoid the big mistakes, and for NYCFC, building a lead in the first leg is crucial.
---
SPORTING KANSAS CITY vs. REAL SALT LAKE
---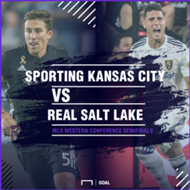 SCHEDULE: at Rio Tinto Stadium, Sunday, 10 p.m. ET; at Children's Mercy Park, Nov. 11, time TBD
SEASON SERIES:  4-2 Real Salt Lake win at Rio Tinto Stadium on July 4; 1-1 draw at Children's Mercy Park on Sept. 30.
OUTLOOK: Real Salt Lake will take confidence heading into this series because of its performance against Sporting Kansas City this season, but it bears pointing out that Sporting KC enters the playoffs riding a run of strong form.
RSL held its own when the team's met on Sept. 30, a 1-1 draw that saw both sides miss golden chances to win the game. Nick Rimando made several top-shelf saves in that match, while Corey Baird rattled a potential winner off the crossbar.
Baird enjoyed considerable success against Sporting KC this season, with the MLS Rookie of the Year favorite scoring goals in each of the two meetings between the teams. Baird had a forgettable showing in Thursday's knockout round win against LAFC, but you have to think Mike Petke will be tempted to give him another start against a team he has played so well against.
Petke has some big decisions to make. He shuffled his lineup around for the LAFC win, sitting regular starters Albert Rusnak and Justen Glad, going with veterans Luke Mulholland and Chinedum Onuoha in their place. Those moves paid off on Thursday, with Mulholland and Onuoha playing well in the 3-2 win to book RSL's place in the conference semifinals. Now does Petke go back to Rusnak and Glad? Chances are he will, given the short turnaround time between matches. Having Rusnak and Glad fresh for the first leg against Sporting KC will be important.
As far as Sporting KC, the Western Conference's top seed enters the playoffs riding a three-match winning streak, sparked by an attack that has rattled off nine goals in three matches, including big road wins at Vancouver and FC Dallas. Peter Vermes has deployed the attacking trio of Daniel Salloi, Khiry Shelton and Johnny Russell in his past two matches, leaving Diego Rubio and Gerso Fernandes on the bench. Shelton has given Sporting KC a viable target forward option to have other players make runs off of, and both Salloi and Russell have benefited.
Sporting KC's defense is rock solid, but this season it has looked vulnerable against RSL on the counterattack. RSL's lightning-fast counter is a handful for all opponents, but it will be up to Sporting KC to be smarter in possession and avoid the types of turnovers that can feed into RSL's strength on the break.
Can RSL's defense hold up against a Sporting KC attack that's in excellent form at the moment? That's the key to the series. RSL's fullbacks, Brooks Lennon and Aaron Herrera are young, and will have their hands full against whichever wing options Vermes deploys. If Lennon and Herrera can hold up defensively, RSL has a chance to pull the series upset. If not, Sporting KC will roll to the Western Conference final.
---
SEATTLE SOUNDERS vs. PORTLAND TIMBERS
---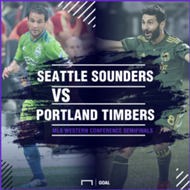 SCHEDULE: at Providence Park, Sunday, 5:30 p.m. ET; at CenturyLink Field, Nov. 11, time TBD
SEASON SERIES: 1-0 Timbers win at Providence Park on May 13; 3-2 Timbers win at CenturyLink Field on June 30; 1-0 Sounders win at Providence Park on Aug. 26.
OUTLOOK: So much as changed since the last time these two teams met in the playoffs in 2013 in a series won by the Timbers. Both sides have lifted MLS Cup titles, and now the Sounders enter having reached two straight MLS Cup finals. They each boast a veteran nucleus, and they are both coached by different men than the ones who led the teams back in 2013.
The battle, as usual, will center around the midfield, and which midfield unit can win a match-up of two of the league's best groups. The Timbers attack is led by the dynamic duo of Diego Valeri and Sebastian Blanco, while the Sounders have the trio of Nicolas Lodeiro, Cristian Roldan and Victor Rodriguez working well underneath dynamic striker Raul Ruidiaz.
The Timbers did well to contain the Sounders attack in their most recent meeting, with the only goal scored in the match being a Timbers own goal. The Sounders are a different team now, having scored 15 goals in their past five matches, with Ruidiaz thriving thanks to the steady service Seattle's attack wasn't generating earlier in the year.
Portland has the tough task of trying to break down a Seattle defense that has allowed the second-fewest goals in MLS this year, a defense that has been even stingier during the team's outstanding second half of the season. The Timbers have transitioned away from veteran striker Samuel Armenteros and turned to young forward Jeremy Ebobisse, who has started four of Portland's past five matches. He fits better as the target striker, laying off passes to the dynamic trio of Valeri, Blanco and Andy Polo, but he'll face a stiff challenge from MLS defender of the year finalist Chad Marshall, and South Korean defender Kim Kee-Hee, who has provided Marshall with the quick central defense partner he needs now that Marshall doesn't quite have the speed he used to have.
How can the Timbers win? If Ebobisse is up to the challenge, and can provide a steady and reliable target up top, then Valeri and Blanco can thrive and find chances against Seattle's defense. That's a lot to ask for from a young forward though. Seattle has the better striker in Ruidiaz, who Portland is going to have an extremely difficult time containing, especially with Seattle's midfield playing so well.