Transfers
Carroll isn't the answer to pressure Chelsea's Morata - Wise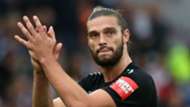 Andy Carroll is the not the answer for Chelsea, says Dennis Wise, with the West Ham striker unlikely to put enough pressure on Alvaro Morata.
Goal revealed on Wednesday that the Blues continue to haggle with their London rivals over a potential fee for the England international.
The reigning Premier League champions had been eager to take the 29-year-old on a six-month loan deal, but West Ham are looking for £20 million in a permanent agreement.
Chelsea are continuing to mull over an approach, but club legend Wise believes they should be looking elsewhere for a more mobile option to compete with £70m summer signing Morata.
"[Carroll] is a handful on his day, he really is," the former Blues midfielder told Sky Sports.
"But, no, I don't think he is [the answer]. The reason being is he doesn't play enough games.
"He's had a lot of injuries, 29 years old, doesn't score enough goals. So, therefore, looking from that point of view, no.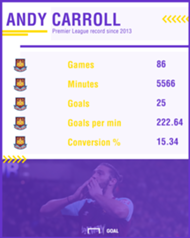 "And I think that Chelsea, they need a striker that likes to go in behind and stretch teams.
"He won't be that person. If they play with one up front he will be more of a hold up and I think with the players that they've got they come off more.
"And they always need that one person that's really going to stretch to give them the space.
"I think there's more out there that'll score more goals because they'll get a lot of chances and really push Morata and that's what he needs.
"I think Andy won't push him as far because he'll play only a certain amount of games.
"And I think you want a player that's really going to push Morata, that's going to score goals and put him under pressure."
Carroll has only made it past the 20-game mark in a Premier League season on one occasion since joining West Ham on a permanent basis in the summer of 2013.
He has also failed to break into double figures in terms of goals scored in all of his four seasons with the club – with the 2010-11 campaign the last time he reached that mark in top-flight competition.