CAF Champions League
Caf Champions League: Mamelodi Sundowns will beat Otoho d'Oyo - Themba Mnguni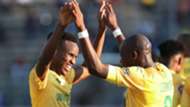 Mamelodi Sundowns legend Themba Mnguni is confident the Brazilians will reach the next stage of the Caf Champions League despite losing 2-1 to Otoho d'Oyo on Sunday.
The 2016 African champions lost to the Congolese outfit away from home in a first leg qualifier of Africa's premier club competition, but 'the Rock' is adamant that the technical team now knows what to expect in the return match at home.
Coach Pitso Mosimane's men netted through Thapelo Morena's second-half goal, thus handing the Tshwane outfit a crucial away goal, after they were trailing 2-0 and reduced to 10 men.
"The away goal gives hope for the boys heading to the second leg. I am confident we will score another two at home. Yes, we didn't see the game but the boys gave their all to secure an away goal," Mnguni told Goal.
"It was our second game of the season, we have not gelled nicely, to be honest, and that is not an excuse."
With the likes of Mosimane and midfielder Sibusiso Vilakazi having noted that Otoho was a closed book before the Sunday encounter, Mnguni believes they have a better idea what to expect in the second leg.
"We are coming back home and we will score two goals, there is no doubt about that. We will dominate here and the Congolese club won't stand to come out alive at home," he continued.
"It was a closed book before the first leg and playing a team you don't know means you will have difficulties when you want to plan.
"The technical team had no idea what to expect, but I am confident they have taken the positives and will have an edge going forward.
"We have players that can compete at any stage and at any given moment.
"The only issue we did not what to expect to in Congo and probably, the coaching staff and the players are aware of what is required. I am convinced that they won't stand a chance at home, Sundowns will win the second leg."
The return leg is scheduled to be staged in Tshwane on Friday, August 23.