Juventus
'Buffon played like a 30-year-old when he was 17' – Zola hails 'special' Juventus goalkeeper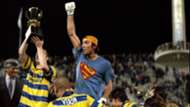 Gianfranco Zola has hailed "special" Gianluigi Buffon as the goalkeeper draws the curtain on a legendary career in Italy.
Buffon confirmed this week that Saturday's match for Juventus against Hellas Verona would be his last in Italian football, with the 40-year-old deciding in the next few days whether to retire completely from playing.
It would mark the end of an incredible career that began in 1995 when Buffon burst onto the scene as a 17-year-old in a memorable debut for Parma against the mighty AC Milan.
Buffon put in a man-of-the-match performance with world-class saves from the likes of George Weah, Roberto Baggio and Zvonimir Boban to earn his side a goalless draw.
Also playing that day was Zola, who says that he knew straight away that Buffon was going to become a special player.
"I played in the first game of his career," Zola told Goal after playing for Chelsea Legends against Inter Legends in a charity match at Stamford Bridge in memory of the late Ray Wilkins.
"He's been amazing. A fantastic goalkeeper. He goes down as one of the best goalkeepers in history, and rightly so.
"What I always liked about him was his personality. I still remember the first game he played. He was 17 years old and it was against Milan, who were top of the league at that time.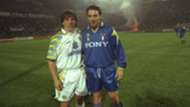 "And he played like he was 30 years old and everyone understood straight away that he was a player who was going to be special.
"And, so, a special one is stopping and I think he deserves a lot of credit because he has been fantastic in so many ways."
Buffon, who won a record nine Serie A titles during 17 years at Juve, is mulling over an offer from Paris Saint-Germain.
The French giants have proposed the 2006 World Cup winner a two-year contract worth €8 million-per-year (£7m/$9.4m).
"It depends a lot on him," said Zola when asked about the PSG offer.
"When you get to his age, it's not only about how you feel physically, it's also about how motivated you are. It is a very personal decision for him."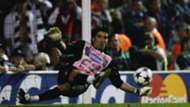 Zola also expressed his delight after Parma were promoted to Serie A on Friday night, returning to the Italian top flight just three years after being declared bankrupt and reforming in Serie D.
"I'm very happy. I'm very pleased because Parma is a club that has to be in Serie A, it deserves to be there. It's a beautiful story," he concluded.
Zola played for Parma for three years before joining Chelsea, winning a UEFA Cup and UEFA Super Cup during the Italian club's glory years.