Ghana
Brimah denies reports he was sacked by Cordoba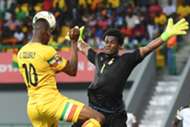 Ghana goalkeeper Razak Brimah has rejected reports he was sacked by his former club Cordoba following a disappointing performance last season.
The 30-year-old, who made only four appearances last season for the White and Greens after losing his position to Pawel Kiezek, said he decided to move on after his contract expired.
"It is not true that I was sacked from Cordoba," Brimah told Sportsworldghana.com.
 "I signed a two-year deal with them and when my contract expired after last season, I decided to leave the club because I wasn't okay with certain things that were happening there so I decided to move on," he added.
"I am in talks with many clubs in Europe but a final decision is yet to be reached. I think I need to look at things very well and consider my career too before I agree to anything. My agent will surely make things happen and hopefully, my fans will see me in post next season," he said.
Brimah, who was Ghana's first choice under Avram Grant between 2015 and early part of 2017, was not handed a call-up by Kwesi Appiah ahead of the Africa Cup of Nations qualifier against Ethiopia in June.