Premier League
Bournemouth defender Tyrone Mings finds seven-a-side match on Twitter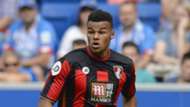 Bournemouth defender Tyrone Mings was up for a little footy on Tuesday. The problem? His team's season is over.
But Mings found a simple solution thanks to the wonderful world of Twitter. 
Ajax, United tribute to Manchester
It all started with a lament from Mings followed by a local man, likely just as a lark, replying with a time and place for a local kickaround. 
@OfficialTM_3 Littledown 8:30 mate x

— Alex Deutsch (@alexdeutsch) May 23, 2017
But then something fantastic happened. Mings, who joined Bournemouth in 2015 for a reported £8m, actually said he was going to turn up. And there was visual evidence later that he did in fact drop by. 
@OfficialTM_3 @CareyPaton pic.twitter.com/gj9WGLofHF

— Alex Deutsch (@alexdeutsch) May 23, 2017
The 24-year-old seemed to genuinely enjoy his kickabout, posting a picture afterward of the group.
Up the  thanks for the inviting me @ @OmarSowunmi down to the 7 a side  #afcb pic.twitter.com/WmcQLePChs

— Tyrone Mings (@OfficialTM_3) May 23, 2017
We can only hope this will lead to a string of Premier League footballers finding some local seven-a-side matches to occupy them during the off-season!