Asamoah Gyan
Bortey slams Asamoah Gyan's leadership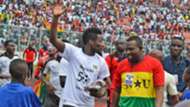 Former Ghana midfielder and Hearts of Oak legend, Bernard 'Don' Bortey, believes Asamoah Gyan lacks the qualities of a good leader.
The current captain of the Black Stars sparked controversies on Sunday when he used a customised armband during Ghana's 5-0 win over Ethiopia in the 2019 Africa Cup of Nations qualifiers at the Baba Yara Sports Stadium.
"Asamoah Gyan and I joined the Black Stars the same day, so I think he has that much experience. But I can say he is not a good leader like Stephen Appiah," Bortey told Class FM.
"Gyan can do whatever you want him to do in terms of football because he knows that he is a scorer. When you put him in, he will score for you, but when it comes to leadership skills, he is not on top.
"A strong leader should command team-mates, organise them and tell them to do this and do that on and off the field of play because when the team loses, all the blame will definitely come to the captain and coach.
He added: "Gyan is scoring but when he does something wrong and people are criticising him, he doesn't speak out to calm down nerves. But as a good leader, you have to come out and explain issues to the public so they understand."
Gyan has scored 50 goals for Ghana, becoming the first player from the West African country to achieve that feat.