Giorgio Chiellini
Bonucci and Chiellini on their way to joining Scirea and Co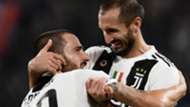 Juventus gave Manchester United a masterclass in defending as the English side failed to breach the Italian champions' backline in a 1-0 loss.
 United were completely outclassed at home as the Bianconeri bossed the game underlining the gulf in class between the two teams. While the pre-match talk was all about Cristiano Ronaldo's homecoming, Jose Mourinho mentioned how he had been impressed by Leonardo Bonucci and Giorgio Chiellini.
Aristotle once proclaimed that the whole is greater than the sum of its parts. This is a phrase that perfectly encapsulates the duo. Bonucci isn't a great defender without Chiellini cleaning up his mess, while Chiellini doesn't have the passing ability of the former AC Milan player.
But together the pair seem unstoppable, just ask Romelu Lukaku who cut an abject figure throughout the game. The Belgian barely got a kick in the game with Chiellini making sure it stayed that way. For Lukaku it was a repeat of Euro 2016 where he faced Bonucci and Cheillini but failed to score.
United try as they might were never going to penetrate Juve's backline and with the addition of Andrea Barzagli, that possibility evaporated. To understand further how solid Chiellini and Bonucci were, here are some stats.
Statistics
-United's front three only managed ONE shot on target between them in the whole game.
-Manchester United attempted just six shots, their fewest in a home Champions League game since April 2014 against Bayern Munich (also six).
 
-Chiellini won 100% of his tackles and made seven clearances, the most of anyone on the pitch.
Juve have a wealth of attacking talents at their disposal which could propel them all the way to the Champions League trophy. But the Italian champions' past successes have traditionally been built on a solid defence. Claudio Gentile, Antonio Cabrini and Gaetano Scirea are just some of the illustrious names who lend credibility to the aforementioned statement.
And after their performance against United, it is safe to say Bonucci and Chiellini could be well on their way to joining those illustrious names.