African All Stars
Boateng makes intriguing revelation about his club manager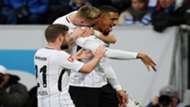 Eintracht Frankfurt attacker Kevin-Prince Boateng has shed light on his long-standing relationship with club manager Niko Kovac.
The duo reunited in August when Boateng completed a three-year move from Spain, 11 years after defending the colours of Hertha Berlin as teammates.
Interestingly, Boateng and Kovac were both born in West Berlin, Germany, made their professional debuts with home club Hertha Berlin, but ended up playing for Ghana and Croatia respectively at senior international level.
"That's right, we've known each other for a very long time," Boateng told his club's official website.
"We come from the same area, in fact almost the same street. 
"We played together briefly at Hertha and even sat next to each other in the dressing room. 
"We've always got on well and been on the same wavelength despite our age difference. 
"He led me as a team-mate back then and now he's doing the same as coach."
It is set to be some emotional homecoming for both men as Frankfurt play away to Hertha in the German topflight on Sunday.