Transfers
Black Leopards wanted R6 million for Siphelele Ntshangase, says Kaizer Chiefs boss Bobby Motaung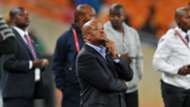 Kaizer Chiefs football manager Bobby Motaung has explained why the club initially pulled out of a deal to sign Siphelele Ntshangase from Black Leopards. 
The Soweto giants have constantly been criticised for their reluctance to splash cash on quality players, but Motaung said that's not the case, backing his argument by revealing that Ntshangase's former employers [Leopards] wanted no less than R6 million for the skillful midfielder.  
"I think the issue of Ntshangase has been a thorny one with Chiefs supporters and the media in terms of us not wanting to pay for the player, but I think there's been a lot of persuasive matters' addressing Black Leopards at the time to try and persuade the player to come to Chiefs," Motaung told reporters. 
"The chairman of Leopards [David Thidiela] made it clear at the time that even when he was injured' when we tried to acquire him' that Ntshangase could go to any other club at the price that was there, but as long as he went to Chiefs it [the price] was going to go sky high – talking about R6 million and all that. He said it was because Chiefs have a special price tag. That obviously stifled the deal at the time," he revealed. 
Despite the setback, Chiefs waited patiently for the now 24-year-old, and made a move as soon as Ntshangase joined Baroka FC at the start of the season. 
"We have always been pursuing the services of the player, and finally with Baroka' we settled and we did a deal with him and we brought him on board. We just negotiated in good faith, and the player was willing to come to Chiefs' and he's here," he added. 
Motaung feels the acquisition of Ntshangase, who made 10 appearances for Baroka during the first half of the season, came at the right time, and he strongly believes that he is an asset to Chiefs. 
"I think it's a blessing because it's at the right moment. He's only 24' he still has a long way to go, and we feel it's the right investment for us," concluded Motaung.