Betting
Betin Kenya – 2017 CONCACAF Gold Cup Preview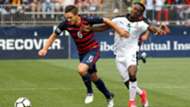 The 2017 CONCACAF Gold Cup kicks off this weekend, and as usual the team at Betin Kenya have given you a detailed betting breakdown to help guide your football predictions.
French Guiana vs Canada (2 – 1.67)
Canada are big favourites going into this game against what would appear to be the weakest team in the group. With young players like Raheem Edwards and Alphonso Davies providing real quality in midfield, the Canadians should get their campaign off to the best possible start.
Honduras vs Costa Rica (2 – 2.05)
Honduras are the 2017 Copa Centroamericana champions and winning a trophy will stand them in good stead for this tournament. However Costa Rica are clear favourites to win the group given that this bunch of players has quite a bit of big game experience for a CONCACAF side. Joel Campbell and Bryan Ruiz should provide real moments of quality in attack to drive them to a win.
USA vs Panama (1 – 1.68)
USA have a rich history in this competition with their latest win coming in 2013. They go into this competition as one of the favourites, but would be foolish to underestimate their robust opponents. Panama defeated the US in a third place play-off during the 2015 version of this tournament, and will look to turn this into a sloppy and ugly tie to limit the effectiveness of a pacy USA side. USA just get the nod in this one due to their stronger squad, and the fact that their young team comes into this tournament in good form.