Australia
Bert van Marwijk's Socceroos surprise as World Cup tactics talk begins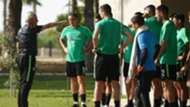 It's taken longer than he would've liked, but Socceroos coach Bert van Marwjik now finally has his full Australian contingent with him in Turkey.
Incidentally it was Socceroos skipper Mile Jedinak who'd be the last of an expanded 27-man preliminary squad to arrive following Aston Villa's play-off loss over the weekend.
With his green and gold army now assembled, van Marwijk is ready to talk tactics with his team ahead of the World Cup and that meant media were shown the door for the first time in Antalya.
Despite the cameras being given restricted access, the Socceroos coach revealed to Optus Sport in an interview with Mark Schwarzer that the tactics he'll hope to implement could be pulled off quicker than he expected.
"They are very disciplined and they have a good character and a lot of energy," van Marwijk told Optus Sport.
"But what I was a little bit surprised about was they did everything exact the way I told them.
"Sometimes, things change. Sometimes, they are different. Then you have to anticipate that.
"I like discipline, but I also like players who develop themselves and who sometimes take their own decisions."
The delayed arrival of Jedinak was the final jigsaw in a Socceroos squad puzzle that has slowly been coming together.
From Josh Risdon, whose season ended over a month ago, to Danny Vukovic who played just a few days ago, van Marwijk's main job right now is to put all the Australian pieces together.
A mission he admits is far from easy but one he has been preparing for.
"That's my problem," he admitted. 
"I knew it before, I knew I can't change it, I cannot blame anybody, but I'm happy everybody is here and I can train with all players.
"I have been working very hard the last five days, technical and the way we want to play, you have to be top fit."
Van Marwjik and the Socceroos first test of fitness and tactics will come on Friday night against Czech Republic before another final friendly against Hungary on June 10. 
Australia's World Cup campaign begins against France on June 16 before subsequent games against Denmark and Peru.