Transfers
Benitez and Ashley must work together in January, says Pardew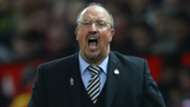 Rafa Benitez and Mike Ashley have to work together to rescue Newcastle United's season in January according to Alan Pardew.
The Magpies are bottom of the Premier League and are still winless after suffering a 1-0 defeat at home to Brighton on Saturday despite dominating the game for large periods.
Pardew spent four years in the North East hot seat between 2010 and 2014, and said the current squad will need reinforcing if it is to survive relegation.
"That's something they have to work out and sit down together," Pardew told Goals on Sunday. "We got to a situation in maybe my third season at Newcastle where we really needed help in January. I said to Mike, 'I think we're in big danger here' and he came to the fore, we signed four or five players and it transformed our season.
"I think Rafa is going to be in that position, the way it looks at the moment, that he is going to need an influx of new blood into that team.
"We all know it is very difficult for football managers but it is also difficult for owners. I was probably closer to Steve Parish at Crystal Palace than I was to Mike at Newcastle in terms of the running of a business and putting the clubs at risk et cetera.
"It is a difficult situation where he's looking, and has made it quite public that he is willing to sell the football club. I think in January, Mike will have to have a long sit down with Rafa and come up with a plan."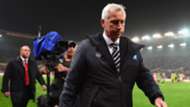 Pardew enjoyed some success at St James' Park, recieving the Premier League Manager of the Season award for stearing Newcastle to a fifth place finish in the 2011-12 campaign, but had some difficult patches as well.
"As a manager at Newcastle, I had my own tricky runs there at times and the chairman and the board stayed with me and it's very important to do that because, at the moment, they have a very experienced manager who knows exactly what he's doing", Pardew added.
"When you come up to the Premier League and you have the momentum to have a decent season which they had last year, that doesn't always guarantee it will happen in year two.
"I think some of those guys are struggling for confidence a little bit, they need a result quickly and that stadium can change.
"I can think of one game where we were 4-0 down at Arsenal and the place was completely rebellious, and then at 4-3, the place is jumping and it's alive. When it's alive, it is very difficult for the opposition and that's what they have to get back - get that goal, maybe a two-goal lead and that will come back very quickly.
"But the confidence needs to come back and Rafa has got a job on his hands."