Arsenal v Bayern München
Bayern are not sorry for Arsenal hammering, says Hummels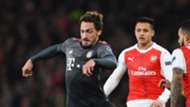 Mats Hummels is adamant there is no reason to feel sorry for Arsenal after Bayern Munich hammered Arsene Wenger's side 10-2 on aggregate in the Champions League.  
The future looks dark for abject Arsenal
Arsenal fans are growing increasingly disillusioned following their latest dip in form, with Bayern recording back-to-back 5-1 wins to condemn the Gunners to a seventh successive Champions League last-16 exit.
Hummels knows how it feels to lose heavily to Bayern, having been beaten 5-1 with Borussia Dortmund in the past, but insists that big defeats are a normal part of football and that his side shouldn't feel guilty for heaping on the misery. 
"I don't know if you can feel sorry in sports [for your opponent]," Hummels said at the Emirates Stadium. "You just have to do your best and it was very unlucky in the end for them. They had 50 good minutes and it can happen.
WATCH: Alexis laughs during drubbing
"Maybe we will face them in the coming years and face the same problem as them. I don't think we have to be sorry, it is just sports. If you win, you just enjoy it. It doesn't look good, of course, [for Arsenal] and that's too bad.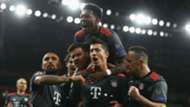 "Maybe they felt they could score the goals and it was okay for them to keep playing like this but then we played things really well. I experienced it for myself. I lost 5-1 to Bayern Munich [when I was at Dortmund], when we felt we did a good job and we were not that bad to get beat like that.
"It was in Munich, in my last season with Dortmund. We lost 5-1 and it was pretty close until they scored the fourth goal. Bayern are a team that can go fast in one direction."
WATCH: Arsenal fans' Wenger protest
Theo Walcott opened the scoring at the Emirates Stadium on Tuesday night before Laurent Koscielny's red card and Robert Lewandowski's penalty turned the game. 
Arjen Robben, Douglas Costa and Arturo Vidal completed the scoring in the second-half rout, but Hummels thinks that Bayern's early problems in the match came about because they struggled to get motivated, as they led 5-1 from the first leg. 
"Of course, we tried to focus but we have to say we weren't that aware of the game 100% from the beginning and I think there were some situations where you can see that we were not thinking as fast as we usually think," he added.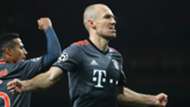 "You saw Arsenal got a lot of second balls in the first half which was a problem for us and you can say it was not 100% from the beginning, we were not lazy, but it was not 100%. 
Tuchel's Arsenal & Barca audition
"It was tough in the first 45 minutes and the chance from Giroud meant they had the chance to make it close, but with the red card, the game was over and everybody knew. 
"They [Arsenal] wanted to keep being offensive and scored one goal, the way they played [up until the red card], maybe they felt like they would have deserved to win.
"Then when they went down to 10 men, we were very clever on the counter-attacks. We had some very nice goals. They lost the balls sometimes too easily. Sometimes these results can happen in a game which was clearly not a five-one."