Barcelona
Barcelona will have to retire No.10 with Messi - Ronaldinho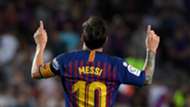 Ronaldinho believes Barcelona will need to retire their No. 10 jersey once Lionel Messi hangs up his boots, with nobody capable of filling the boots of the "best in history".
At 31 years of age, there is still plenty of football left in the five-time Ballon d'Or.
It may be a little ambitious to expect him to play on for another 20 years, but that is what Ronaldinho is hoping to see from the Argentine superstar.
Messi has already raised the bar of individual excellence over the course of a remarkable career, and it is difficult to see how anybody would be able to step into the void once he leaves Camp Nou.
Barca legend Ronaldinho told Sport on a modern day icon: "He's the best in history, no doubt.
"Nobody has done what Messi's done. I hope he plays 20 more years. Those who love football would love to have him here for much longer.
"I think when he leaves, nobody will be able to take the No. 10 of Leo."
The only man to have got close to Messi over the last 10 years is eternal rival Cristiano Ronaldo.
The Portuguese has been able to match the mercurial Argentine for long periods, but Ronaldinho still feels Barca's talismanic skipper edges the debate regarding who is the best.
He added: "For me it's not a question over who is more complete, it's a question of taste.
"I prefer Messi's style. The other one is complete, he has it all. So does Messi, but it's a question of taste and I prefer Messi's style."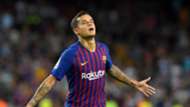 Messi starred once again for Barca in his latest outing, netting twice as Ernesto Valverde's side crushed SD Huesca 8-2.
Philippe Coutinho also caught the eye in that contest, despite not finding the target, and Ronaldinho admits he would have relished the opportunity to play alongside a fellow Brazilian in his heyday.
The 2002 World Cup winner said: "There are a lot of players who I didn't coincide with and I would have liked to play with them.
"Coutinho is one of them. [Andres] Iniesta and him are great players. They each have their own style, but I think the Coutinho will be one of the big names in world football. He already is, but I think that he will be more still."