South Africa
Banyana Banyana star Janine Van Wyk announces latest plans to empower aspiring female footballers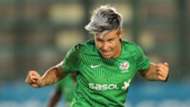 Houston Dash and Banyana Bayana star Janine Van Wyk continues to give back to the game as she recently announced the launch of an academic and football curriculum for girls.
This is the latest initiative taken by the 31-year-old after she successfully launched a ladies football club a while back. The programme is set to take a select group of elite female footballers and put them through various academic programmes of their choosing that will include among others Cambridge, National Curriculum and Assessment Policy Statement and the American GED School Leaver's Certificate.
The programme which will start in October of this year will be held at ESCA Wanderers (Elite Sporting & Cultural Academy) and will provide the budding athletes with an opportunity to not only hone their football skills but at the same time give them the necessary academic background that will be needed for them to make a success in their future careers.
Meanwhile, speaking in the aftermath of the announcement, an excited Van Why hoped that this opportunity will allow for many girls to realise their dreams of playing football in the coming years not only in South Africa but also abroad.
"I am extremely excited to share all my knowledge and experiences to help young athletes prepare for their life journey to become pro athletes - both mentally and physically," the United States of America-based star was quoted as saying by SowetanLive.
"Education is absolutely key to preparing players in the new era of professional football and my aim is that this group of 20 players will all go onto furthering their careers in the professional game - both in South Africa and overseas," she added.
Furthermore, the girl's needs will be overseen by Margie la Grange who heads ESCA School Wanderers.
"We will support and facilitate each individual learner's specific programme to achieve her personal best," La Grange expressed.