Ligue 1
Balotelli must pay heed to Ben Arfa's PSG troubles and stay in Nice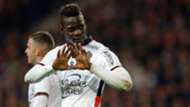 ---
COMMENT
---
Mario Balotelli's arrival at Nice was a sign of intent. The Italy international might have arrived in the south of France with as much baggage as the average Boeing 747, but his was a name capable of lighting up the football pitch of the Allianz Riviera as readily as the celebrities and film stars who flock to the Cote d'Azur capital. 
Madrid late show spells end for Benzema
Arguably, his transfer to the club was the biggest coup, at least in foreign star appeal, since they signed legendary Barcelona attacker Josep Samitier in the 1930s. 
"He's someone I played with on video games, and I never expected this at all," midfielder Wylan Cyprien admitted when he learned of the player's arrival. 
Nice had successfully tamed Hatem Ben Arfa a year previous before he departed on a free transfer for Paris Saint-Germain, and now the idea was to do likewise with tearaway Balotelli.
Close to the border with his homeland of Italy, and in a laidback city, there have been few scandals to engulf the forward, who has become a popular figure with fans. He has become the media focal point of the side, a hook upon which to hang stories as Lucien Favre's men chased an unexpected league title.
Ahead of Sunday's meeting with Paris Saint-Germain at the Allianz Riviera, that now seems a distant possibility as draws have crippled their hopes of usurping Monaco and the defending champions, despite just two losses – neither of which have come at home – all season.
Balotelli might be the star man on the south coast due to his popular appeal, but he is not, however, anywhere near the most important player in the Nice side. Favre's men leaned most heavily upon Alassane Plea and Cyprien before both were struck down by serious knee problems at the beginning of the year – probably the two incidents that cost them a real crack at the top two.
Evra launches stunning Zidane attack on Dugarry
In the aftermath, the understated Jean Michael Seri – tipped by many as the next N'Golo Kante – stepped forward in an impressive manner. 
Veteran Brazil international defender Dante has also had a formidable season, while more unfamiliar names such as Ricardo Pereira, Dalbert and even Arnaud Souquet have stepped up to the plate.
It is among this melee where Balotelli can be placed.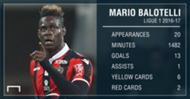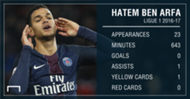 He has 13 league goals for the season – one shy of Kylian Mbappe, who has only regularly featured since December – of which three have been penalties and only two have come away from home. 
After an explosive beginning, in which he scored doubles against Marseille and Monaco, then a match winner in the final minute versus Lorient, the Italian has struck eight times in 17 league outings. It is a strong return, but not one of a superstar.
There have been glimpses, too, of his petulant side. If he has grown more mature off the field, bookings for dissent have been all too easily garnered on it, prompting agent Mino Raiola to threaten jokingly to cut out his tongue. Against Toulouse, for example, he played only four minutes as a substitute but still found his way into the referee's notebook.
When he was needlessly sent off against Lorient away from home, his action provoked such frustration from Favre and his team-mates that it seemed the trust in him had gone, that he was once more spiralling out of favour. But unlike previous occasions, he has rallied, worked hard and got himself back into favour.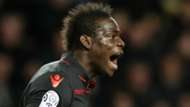 Indeed, there have been signs of encouragement to suggest that his career is back on track but that it will not reach the heights it threatened in 2012, when he so brilliantly led Italy to the final of the European Championship.
"I thought he was a lot crazier," Dante admitted to Le Journal du Dimanche.
Favre was hoped to be the man to drill in a source of work ethic to the 26-year-old. Balotelli has not slouched in training, but the pressing game that the Swiss favours has not come easily to him.
The coach told Tagesspiegel: "He needs to make more and better runs. Mario must work more if he wants the long-term respect of his team-mates.
"Scoring goals is not enough in modern football."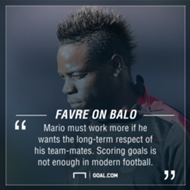 But the coach's relationship with the player appears relatively solid and the Swiss says he has no problems looking after the Italian. "It's not difficult if you have respect for Mario and Mario has it for the others," he explained.
"He trains well -- you can't reproach him for that. I ask him to do more tracking back, to win back possession, but I do it without shouting."
Balotelli is a player still learning. His media appeal has proven to be as important as his contribution on the field, yet that has not put off suitors looking to take advantage of his free agent status in the summer.
Galatasaray are hovering, while Napoli are reportedly toying with the idea of luring the striker back to his homeland.
He could be well advised to look at the example of Ben Arfa, though, who was one of Ligue 1's outstanding players last season at Nice. But Unai Emery has left him out of the PSG squad to train ahead of Sunday's meeting with his former club.
His incredible renaissance has been stopped in its tracks by a big move gone wrong: he has barely played this season.
Nice, meanwhile, remains a fine fit for the Balotelli, and with a Champions League campaign set to come to the Allianz Riviera for the first time ever next season, who better to lead the charge than Mario?
The club suits him, he suits the club: he'd have to be crazy to leave.