South Africa
Bafana drops to 80th in the world and SAFA to meet with FIFA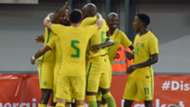 Following two defeats against Cape Verde in their Fifa World Cup qualifiers, the South African national team's world rankings have taken a major blow.
Bafana Bafana lost 2-1 to Cape Verde home and away, and are now sitting at the bottom of the qualifying group with one point. That's also due to having to replay their game against Senegal, a game they initially won 2-1.
This is South Africa's worst position since 2013. Safa CEO Denis Mumble says they will voice their concerns regarding the replayed fixture between South Africa and Senegal, set for November with the world governing body Fifa.
"The way it stands right now' we will replay the game as instructed by Fifa. We are not formally challenging the decision (to replay the match) but we are going to register our concerns." Mumble told Sowetanlive.
Despite accepting the decision, Safa are keeping their eyes closed to any potential errors on the path of the governing body before contemplating further action.
'Should the courts find that Fifa erred in this matter' then clearly we have to also go in and assert our rights because we will also be affected by it'" Mumble said.
Fifa ordered the replay last week Wednesday after Ghanaian referee Joseph Lamptey was found to have manipulated the result of the match last November.
Bafana won 2-1 win where Lamptey handed a dubious penalty to the hosts minutes before the break, prompting the Senegalese FA to launch a protest.
Lamptey has since been handed a lifetime ban after he was found to have manipulated the result of the game.
''As much as we agree that we have to stamp out corruption in football and we took the moral high ground here and agreed to the replay the match because we do not want to be recipients of a corrupt outcome' it doesn't mean that we should not raise these matters.
''These are very serious matters for the conduct of the game in this country," Mumble said.