Transfers
Bafana Bafana striker Lebo Mothiba pleads for a return to French Ligue 1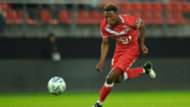 South Africa international Lebogang Mothiba has pleaded for French Ligue 2 club Valenciennes to allow him to return to his parent club Lille.
The 22-year-old has become somewhat of a fan favourite at The Athenians, banging eight goals in 20 appearances for the club, but after signing a new contract with Lille a return to France's topflight looks to be on the cards.
However, it seems that despite Mothiba's willingness to return to his parent club, combined with the signing of two new forwards by Valenciennes, the second-tier club are still reluctant to let the centre forward depart.
Speaking in an interview with French publication La Voix du Nord, Mothiba has explained his current situation and has pleaded for his release.
"I am sad about this situation because I want to go back to LOSC (Lille)," Mothiba admitted.
"I knew that my departure would be difficult to negotiate, but I was hoping for a favourable outcome today following the arrival of two forwards at Valenciennes. But no, the club told me that it did not work like that and that they wanted to keep all their attackers," he added.
 "The contract that I was offered, and the insistence of the leaders, clearly showed LOSC's desire for me to play. I want to go and play for Lille in Ligue 1. With practically assured maintenance and financial compensation, I do not understand that they will not let me go. I do not want to be the pretext for a problem between the two clubs.
"I will never forget everything Valenciennes has done for me. Few people knew me a year ago when I arrived, I insist on telling VA fans that I had a lot of fun with them before, during and after the matches," he continued.
Meanwhile, Mothiba has stated that while he has his heart set on a return to Ligue 1, if he is forced to stay at Valenciennes, he will accept it.
 "If I have to stay in Valenciennes, I will accept it because it will be the destiny and the decision of God. I will be disappointed and I will get back to work, but I do not consider it. My head is in Lille and the match against PSG on Saturday," he concluded.