Transfers
Arsenal right to sell Oxlade-Chamberlain as he enters Liverpool's last chance saloon
---
COMMENT
---
Social media has become the barometer of how to assess the general mood of a club's football supporters. Arsenal have a huge presence across platforms and currently find themselves in the spotlight after losing two of their first three Premier League matches. With less than 48 hours to go in the transfer window, they now look set to lose last season's talisman Alexis Sanchez to Manchester City despite manager Arsene Wenger reiterating all summer that he will stay.
However, the transfer which everyone expected to happen in the final days of the window saw Gunners fans shed no tears whatsoever. Alex Oxlade-Chamberlain's flip-flopping between Liverpool and Chelsea has seen him finally settle on his 'boyhood' Reds, who have agreed a £35 million fee which includes add-ons of up to £5m. The Gunners are getting a hefty chunk of money for a player who has contributed far too little on the pitch since he arrived as a 17-year-old in 2011.
Oxlade-Chamberlain is part of Arsenal's now much-maligned 'British core', a group of six players who have now either left the club or failed to live up the great expectations many supporters had hoped they would fulfil. Kieran Gibbs has gone, Carl Jenkinson has been sent on loan to the Championship, Jack Wilshere has been offered to the likes of Sampdoria and Real Betis, Theo Walcott is struggling to break into the starting XI and Aaron Ramsey continues to infuriate despite mightily impressive showings at national team level where he plays in a no.10 role for Wales.
It is Oxlade-Chamberlain, though, who represents the biggest talent from the aforementioned list of names after asserting himself in the latter half of last season where he showed promise in a wing-back role. He was handed a start in the FA Cup final on the left-hand side, and while he impressed, it is understood that Chamberlain mentioned several times to Wenger over the course of the season that he wants to play centrally.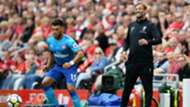 "He has the attributes to play in central midfield, he has that important quality - a little surge to get out of pressure," Wenger said in January.
"One of the things to get out of pressure is to have a little dribble to get away from the guy who closes you down and nobody more than Chamberlain has that.
"That is why he could be suited for the modern game to play in there because he has that capacity to get out of the pressure."
Ramsey, Granit Xhaka, Mohamed Elneny and Francis Coquelin were all given opportunities in the central role ahead of Oxlade-Chamberlain. Despite Wenger's very public comments it is clear that he wasn't convinced by something – and perhaps the poor statistics coupled with a lack of final product are the reason behind his thinking.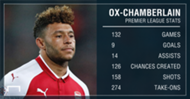 Chamberlain has seven Premier League goals to his name and has created a measly 23 chances in just six years, compared to team-mate Mesut Ozil who once created 24 chances in just three games. He has found it difficult to cement a regular position in the Arsenal team and struggled with injuries over the years. Perhaps a move to Liverpool will help rejuvenate a career which has seemingly looked like stalling until the back-end of the last campaign.
Arsenal are getting an excellent deal from Liverpool. They are losing a player who may yet fulfil his potential under a relatively young, hungry, man manager in Klopp, but they have a exceedingly talented prospect waiting in the wings in Reiss Nelson. The 17-year-old was the star of pre-season and could be see his path to the first team open up following Chamberlain's departure.

No-one will ever forget his domineering performance in central midfield against AC Milan yet for every showing of his potential there were marks of inconsistency and error. His opening game was during the 8-2 defeat to Manchester United and it's apt that he bows out by losing 4-0 to the team he will now be playing for.
Oxlade-Chamberlain's decision to reject Chelsea for Liverpool proves that he is a sought-after player with bags of potential, and the 24-year-old who remarked after the FA Cup final that he's "always wanted to be Steven Gerrard" has finally got his wish – but he has a long way to go before he his name is even mentioned in the same regard as one of the Premier League's all-time great midfield generals.