Banfield
Argentine legend Crespo secures coaching job with Banfield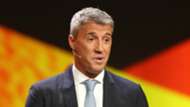 Hernan Crespo will once again try his hand at management after securing the head coach role with Primera Division side Banfield.
The former Argentine striker, who scored 35 times across 64 appearances for his nation, has been without a job since he was sacked as manager by then Serie B side Modena in March 2016. 
Prior to that, Crespo's only coaching experience saw him take charge of Parma's youth team in 2014, a position he left when the club was temporarily disbanded in 2015.
Crespo will formally take over at Banfield on January 2 next year with current manager Julio César Falcioni set to depart the club after a match against Union on December 8.
Banfield currently sit 12th in Argentina's top-flight and have only ever won the first division title once back in 2009.
The club is far from one of the country's biggest, but names like James Rodríguez and Javier Zanetti have come through with the club before becoming stars in Europe
Now 43, Crespo's playing career began in the Primera Division with River Plate before stints in the Serie A with Parma, Lazio and Inter Milan.
The former forward's best years were towards the turn of millenium, as he scored 20 goals in four consecutive seasons from 1998-2002 as a member of Parma and Lazio, including a 2000-2001 campaign that saw the Argentine fire 26 league goals.
A move to the Premier League with Chelsea in 2003 saw him loaned out twice across a five-year spell with Crespo joining Inter permanently in 2008 and ending his playing career with Parma in 2012. 
Crespo's first taste of senior management ended in dramatic fashion when Modena fans storming the club's press room after injury-time defeat to Cagliari in early 2016 left them on the brink of relegation and saw Crespo sacked. 
Despite that setback, he's now set to test his coaching skills once again and has previously singled out Carlo Ancelotti and Jose Mourinho as managers that inspire him most.