United States
Arena dismisses potential issues with Cameron over political views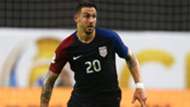 Bruce Arena quickly put down any idea that a rift might form between him and defender Geoff Cameron over political views. 
The Stoke defender ran counter to the U.S. national team boss when he came out in support of Donald Trump's travel ban, but Arena says that Cameron is welcome to any political opinion he wants. 
WATCH: Morris scores winner for the USA
"He has a different political opinion? Have you been around the United States the last couple years here?" Arena responded when asked about Cameron's views differing from his. "I think that's…so he has to agree with me politically?
"No, he's wonderful. He was in with us for a week during the camp, he came in from Stoke to have our doctors look at him. He's a terrific kid. He can have any kind of opinion he wishes to have politically. The soccer part we've got to kind of be on the same page, though."
Cameron is likely to be part of the next roster Arena calls, with the Americans facing World Cup qualifiers against Honduras and Panama in March.