Africa Cup of Nations
Appiah unhappy with Black Stars after Burkina Faso defeat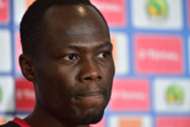 Stephen Appiah has voiced his disappointment following the Black Stars 1-0 defeat to Burkina Faso in the Africa Cup of Nations third-place playoff on Saturday.
Ghana made it to the semi-finals of the tournament and were hoping to win their first title since 1982, but had to battle for bronze after losing to Cameroon.
However, Alain Traore's late effort from a free-kick handed the Stallions the winner, as the Black Stars finished fourth for the third time since 2012, with the Ghanaian players showing no remorse for the debacle, according to Appiah.
"I think it was not right for them to have acted that way. It was an important game and therefore they should have shown disappointment after losing the game to Burkina Faso," Appiah told Ghone TV.
"But it looked like they didn't care about the defeat to Burkina and were somehow not moved. It was like nothing was at stake and I think that is because they lost the chance to make it to the final, but I think it is not right.
"Their demeanour after the game to me was not good especially when Ghanaians were sad because they didn't win the title. At least, winning the bronze would have been okay for us," he added.