Barcelona
Anxiety attacks stopped me from becoming 'new Messi', says Krkic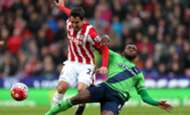 Bojan Krkic has revealed the paralysing anxiety attacks which he believes have prevented him from reaching his full potential as a footballer. 
The forward made a big impact at Barcelona when he first burst onto the scene as a teenager, drawing inevitable comparisons with Lionel Messi. 
But despite breaking Messi's record as the youngest-ever debutant at the Catalan club and going on to make over 100 appearances, Bojan struggled to carve out a regular place in the Blaugrana first team. 
Mixed spells with the likes of Roma, Milan and Ajax followed, while he spent part of this season on loan at Alaves following three years at now-relegated Stoke City in the Premier League. 
And he has now confessed that psychological hang-ups have held him back throughout his career. 
"It all happened very quick. In footballing terms it went well but not personally," the 27-year-old explained to the Guardian.
"I had to live with that and people say my career hasn't been as expected. When I came up, it was 'new Messi'. Well, yes, if you compare me with Messi … but what career did you expect?
"And there are lots of things that people didn't know. I didn't go to the [2008] European Championship because of anxiety issues but we said I was going on holiday. I was called up for Spain against France, my international debut, and it was said that I had gastroenteritis when I had an anxiety attack. But no one wants to talk about that. Football's not interested.
"Anxiety affects everyone differently. I spoke to someone who felt like their heart was beating 1,000 times a minute. With me, it was a dizziness, feeling sick, constant, 24 hours a day," Bojan says, signalling his head. "There was a pressure here, powerful, never going away.
"I was fine when I went into the dressing room for the France game but I started to feel this powerful dizziness, overwhelmed, panicked, and they lay me on the physio's bench. That was the first time but I had nasty episodes like that again.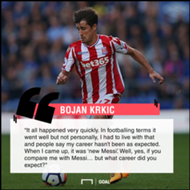 "There's medicine, psychological treatment to overcome the barriers you've erected, the fear. It started in February and it lasted until the summer. When the Euros came I decided I couldn't go, that I had to isolate myself."
Having scored more than 900 goals with Barca at youth level - "that accompanies you your entire career," he said of that feat - Bojan was expected to be a star, but he does not regret his decision to leave in the hope of finding regular first-team action. 
"Maybe at times I should have been more patient but I've always been honest making decisions [to move]; I always wanted to play. You have your path – Italy, Holland, Germany, England – but Barcelona conditions everything," he added.
"People don't value what you do. There's this line: 'Let's see if Bojan gets back to his best level.' But what's the best level? Every season I've reached that level, sometimes more consistently, sometimes less, but I've always competed well.
"One thing people have said to me, is that if I had been more of a son of a bitch… And the higher up you get the more you have to be one. But I say: 'I can't.' And when I have tried to play a nastier role on the pitch, I've lost it completely."