Super League
Amri, Andik need to contribute more to Selangor's defending, says Maniam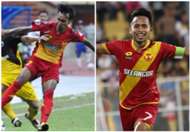 ---
BY        ZULHILMI ZAINAL       Follow on Twitter
---
Selangor head coach Maniam Pachaiappan does not want his men to take their Super League match against Pahang lightly, even though the Tok Gajah fell to a disheartening 3-2 defeat to Kedah in the FA Cup final match last Saturday.
He told Goal that on Wednesday, the Red Giants must pay extra attention to Pahang attackers Mohamadou Sumareh and Matheus Alves.
"They have good players especially the foreign players and also the local boys. We have to mark their strong players like their number 29 (Alves) and 26 (Sumareh), and we have to stop this kind of players.
"After their defeat against Kedah, surely they'll be coming back strongly.
"We have to perform better against them, we know they are a good team, but at the same time their confidence level will not be at the level it was before the final match.
"They're going to be down, but we cannot take it easily," explained the former Selangor player.
Also a concern to Maniam is the Elephants' new signing; Argentinian midfielder Yamil Romero. The 21-year old former Boca Juniors player arrived in Kuantan one week prior to the cup final as Bright Dike's replacement, and made his debut for Pahang in the match.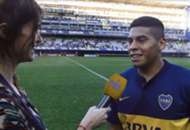 Yamil Romero. Photo from bocajuniors.com.ar
"He's a good player, he can read the game, make interceptions, make good passes from defending to attacking.
"He has qood qualities in attack, and we have to pay attention to him," said Maniam.
When asked about the updates on recent returnees Amri Yahyah and Andik Vermansah, who are expected to don the Red Giants colours for the first time in a long while against Pahang, Maniam responded that the pair are getting along well with his tactical requirements, although he still wants them to work on their defensive contributions.
"They're combining well, even today (Tuesday) in training their finishing was sharp, they combined well with Forkey Doe and created a lot of chances as well.
"But at the same time they also need to focus a bit more on defending, that's the most important thing. In modern football, even the number nine player too have to defend," he pointed out.