Premier League
Allies boss Kenichi not carried away after Bechem victory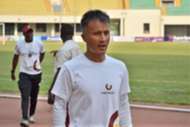 Inter Allies coach Kenichi Yatsuhashi believes his side can still get better despite a 3-0 thumping of Bechem United in the 2017-18 Ghana Premier League opening game on Saturday.
After a frustrating first half, Victorien Adebayor's brace and a strike from Dan Amanfo gave them a perfect start.
''I think our opponents played a very good first-half and we had to defend a lot but it was only in our plan,'' Kenichi said.
''And in the second-half, our plan changed and we finished the game as we played. It means that we have next game to prepare and we have a lot of rooms to improve so it is not anymore than just one match,'' he added.
Kenichi also showered praise on Adebayor and believes he can be a superstar in the future.
"He is young and his job is to score goals like he did. He has a lot of task to perform as well," he said.
"There is a lot of room for him to improve because he is a very talented player and can become a star," he added.
Allies struggled throughout last season and were saved on the final day.