Arsenal
All-out attack! Why Emery must unleash Ozil, Aubameyang, Lacazette & Ramsey against Napoli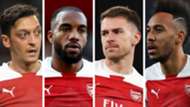 Arsenal have had to rely on home comforts to scrape over the last two hurdles in their Europa League campaign, coming from behind to see off BATE Borisov and Rennes after first-leg away defeats.
However, against Napoli in the quarter-finals, they don't have a second leg in north London to rely on if things go wrong in the first 90 minutes.
With the return fixture taking place in Naples, there is no room for error on Thursday night as Unai Emery's side look to take a major step towards the semi-final for a second successive season.
This time last year, a fine display at the Emirates saw Arsenal cruise to a 4-1 win over CSKA Moscow. That is the type of performance and result they will need before heading to the raucous San Paolo.
Even against CSKA they found themselves close to an embarrassing exit as the Russians moved into a 2-0 second-leg lead, leaving Arsenal just one goal away from elimination.
Danny Welbeck settled their nerves, though, by reducing the deficit late on before Aaron Ramsey's last-minute strike earned the Gunners an unlikely 2-2 draw.
On paper, a 6-3 aggregate scoreline looked comfortable, but anyone who was there in Moscow will testify that it was a nervy evening. That should serve as a reminder for Arsenal of just how perilous second legs away from home can be.
For all of the improvements we have seen this season under Emery, the Gunners remain vulnerable on the road – as we saw once again on Sunday when Arsenal were beaten 1-0 by Everton at Goodison Park.
Arsenal have won just twice away from home in all competitions in 2019 – with those victories coming against Huddersfield, in the Premier League, and Blackpool, in the FA Cup.
Such form makes it tough to have any confidence in Arsenal going to a ground as daunting as San Paolo and overturning a first-leg deficit. Put simply, victory against Napoli at the Emirates is imperative.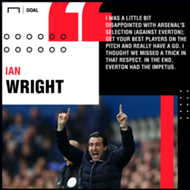 One of the big criticisms of Emery since he arrived at Arsenal last summer is that he can often err on the side of caution, a trap he fell into once again at the weekend.
Pierre-Emerick Aubameyang was left on the bench against Everton, as was Ramsey, with Mohamed Elneny given the nod in central midfield alongside Matteo Guendouzi in the absence of the more forward-thinking Granit Xhaka.
The decision backfired, as Elneny – with his preference to look for the safe backwards pass – struggled badly. It meant that Arsenal were always on the back foot, something that Ian Wright was correct to highlight on Match of the Day 2 on Sunday night.
"I was a little bit disappointed with Arsenal's selection," said the Gunners legend. "It was an opportunity to start Aubameyang, start [Alexandre] Lacazette, get [Mesut] Ozil on the pitch, start with Ramsey – get your best players on the pitch and really have a go at Everton.
"I thought we missed a trick in that respect. In the end, Everton had the impetus."
With the midfield struggling to get on the ball and without anyone who was willing to take chances when they were in possession, the attacking trio of Lacazette, Ozil and Henrikh Mkhitaryan were totally isolated.
That can't happen against Napoli if Arsenal are to have any hope of reaching the semi-final. They need a positive first-leg result so Emery must avoid going into the game with a negative mindset.
The home wins against Manchester United and Rennes last month showcased Arsenal at their best: Aubameyang was paired up front with Lacazette and they had both Ozil and Ramsey operating behind them – with the latter alongside Xhaka in central midfield.
Providing the Switzerland international has recovered from the thigh injury that kept him out against Everton, then that has to be the team that Emery goes for against Napoli.
Never has the saying 'attack is the best form of defence' made more sense.
Napoli are not arriving in north London in the best of form. They were beaten 2-1 at Empoli last week and then, at the weekend, were held to a 1-1 home draw by Genoa, who played with 10 men for an hour.
Confidence is low, especially at the back, something coach Carlo Ancelotti conceded on Sunday.
"We're defending badly at the moment and that means we cannot control the game," said the former Chelsea boss.
"If you control the game, you don't allow counter-attacks, you don't let the opposition to turn and run at you.
"It's an alarm bell, certainly, because if we play like this in London, then we're in trouble."
Ancelotti's comments are exactly why Arsenal must go on the attack. Their hopes of securing a place in the semis hinge on the first leg at the Emirates – not the return in Naples.
This isn't the time to be conservative, it's the time to go for the jugular, to unleash the big quartet of Aubameyang, Lacazette, Ozil and Ramsey – and to try to blow Napoli away.