Al Ain
Al Ain's Španjić reveals the biggest problem they face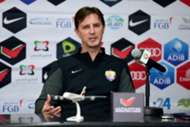 Joško Španjić, Al Ain's temporary manager, spoke out after his team 2-1 away victory over Al Ahli in Arabian Gulf League.

The Croatian manager makes it clear that the lack of conversion of the chances is the biggest problem they have.

"The biggest problem we face is the lack of converting our chances into goals, but we scored twice in this game," he said at the press conference after the match.

"I hope we do better in our next games, as Al Ain is the best team in the league performance wise."

"I'd like to thank the players for showing their strong character in the game and handling it with high concentration. Today, we made a little change; Omar Abdulrahman played in front as a forward."

"We also went for the plan Al Ain used in AFC Champions League and played well up in front with Omar Abdulrahman, Caio and Danilo."