PSL
Agent: Possible sale of Bloemfontein Celtic will not affect Steve Komphela's appointment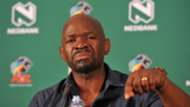 After signing with Bloemfontein Celtic as their new coach, Steve Komphela has been assured that the possible sale of the club will not affect his contract.
According to his agent, Tim Sukazi, Komphela's future is safe in Bloemfontein despite fears of the club relocating to the Northern Cape province.
The former Kaizer Chiefs boss joined Phunya Sele Sele on a two-year coaching contract with an option to renew for one more season.
However, his future is a subject of much speculation with reports that the chairman, Max Tshabalala is selling the club and a Kimberley-based businessman could be the new owner.
Siwelele parted ways with coach Veselin Jelusic last week due to concerns regarding the club sale and suggestions that he was reportedly owed a salary for two months.
Moreover, it took Komphela only two months to find a job after leaving Chiefs in April, and Sukazi revealed that negotiations took almost two days before it was concluded.
The former Amakhosi skipper ended his three-year stay with Chiefs failing to bring a trophy to Naturena, but Celtic could give Komphela another opportunity to do so.
"He was engaged over a period of two days, which would be Monday - the weekend after the club confirmed the previous coach had resigned," Sukazi told IOL.
"The terms of the contract are such that whoever would take over if the club is indeed sold has to honour the contracts of all the employees," said the agent.
"The only drama is if the club was to be disbanded, but that is simply a worst case scenario," added the lawyer.
"He has always attracted interest as a coach from the first time we worked together in 2009," said Sukazi.
"That speaks to being in demand and he did not want to be out of touch for too long. That's why he felt the need to consider taking the job when he was contacted on Monday as soon as the Celtic job became vacant," he concluded. 
Under Jelusic, Celtic managed to finish in 11th spot and reached the Telkom Knockout Cup final last season, and Celtic's new coach will hope to end his search for a maiden trophy in his 16 year-old coaching career.