AFF Championship
Syazwan Andik reveals biggest pranksters of Malaysian squad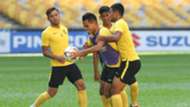 ---
BY        ZULHILMI ZAINAL       Follow on Twitter
---
Malaysia fans should feel positive seeing the Harimau Malaya players gelling together well, and not afraid to get into shenanigans with each other.
If anything, it's an indication that the players have bonded with each other, ahead of their 2018 AFF Championship final tie against Vietnam.
Although the Malaysian FA president Dato' Hamidin Amin on Saturday cautioned the players against spending too much time on social media, it must be admitted that the antics and pranks that they themselves have posted on social media are indeed amusing.
— Akhyarrashid (@akhyar_rashid) December 8, 2018
One such victim of these pranks is left back Syazwan Andik Ishak, who while sleeping days ago, had toothpaste poured into his mouth by skipper Zaquan Adha. The veteran player evidently did not think the fact that his club teammate is currently injured warrants any sympathy.
Fortunately, Syazwan has taken the practical joke in his stride, and explained to Goal after training on Sunday that the pranks do serve a purpose beyond cheap laughs.
Interestingly, their training on that day had a light-hearted feel, with the players seemingly enjoying the time.
"All this joking around is important to any team in that it binds every member together," noted the Kuala Lumpur man. "Players need it in order to get along better with their teammates."
"And things are going very well with us at the moment. We get along with every one."
When asked who the biggest practical joker on the team is, the 22-year old gave a surprising answer; two of the most senior members of the squad.
"It's definitely Adik and Abang (respective pet names of twins Zaquan and defender Aidil Zafuan)! Sometimes they gang up on their victims, sometimes they prowl alone, anyone will get it if they're unlucky!" he explained.
Hopefully Syazwan can recover, if not quickly enough to be ready for the first leg of the Vietnam clash, at least well enough to escape from the two biggest practical jokers of the team and their toothpaste-based pranks.
Keep updated on the 2018 AFF Championship!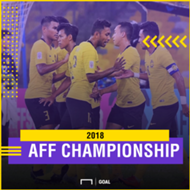 Follow Goal Malaysia 's Instagram account to see photos and watch videos from the AFF Championship!