Philippines
Philippines at the AFF Suzuki Cup 2018: Shorthanded Azkals have tough lineup decisions to make ahead of the semi-finals against Vietnam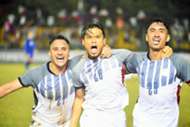 The good news for the Philippines is that they are back in the semifinals of the AFF Suzuki Cup.
Their goalless draw at Indonesia last Sunday night, helped along by Thailand's win against Singapore, means the Azkals face Vietnam in a two-legged semifinal series that starts this Sunday in Bacolod.
Sven-Goran Eriksson's team returns to the playoffs after missing out in 2016, when the group stage was held in the Philippines.
But Pinoy hopes for a first-time ever passage to the finals are clouded by a rash of player withdrawals because of club duties.
Daisuke Sato, the Japanese-born left back, has been called back to his Romanian club. It appears that Sepsi Sfantu Gheorghe was kind enough to allow him to play two games outside of the FIFA window, but no more.
Worryingly for the Azkals, his natural back-up, Stephan Palla, is also gone, summoned back to Thailand for Buriram's preseason training camp.
Patrick Strauss, the dynamic central midfielder, also had to call it a tournament. Erzebirge Aue, his Bundesliga 2 team, apparently also believes two matches outside the window is more than generous.
Neil Etheridge departed after sitting on the bench against Timor Leste, right on the FIFA window schedule.
Luke Woodland, hurt in the first game against Singapore, is also not available. He is a defensive midfielder who can also play centerback.
Thailand could have had a similar problem, with Chanathip Songkrasin and Teerasil Dangda playing in Japan. But their solution was to omit the two entirely from the roster, rather than just having them play two matches then leave. It can be argued that the Philippines could not afford this luxury since their pool is not as deep as Thailand's. Omitting the likes of Sato and Strauss could have meant not reaching the final four.
Eriksson now has to rejigger a defensive line right before the knockout stage of a competition. Most coaches would be loth to do such a thing, but circumstances dictate it.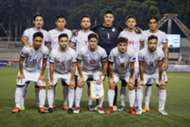 Here are his options:
Ramsay – Silva – De Murga- Steuble. Iain Ramsay is a left-footer, so this is a simple like-for-like fix at that position. But the Fil-Aussie is more of an attacking wide player, and the role may not suit him, especially in a series like this, where the Philippines will want to keep it tight.
Steuble – Silva -De Murga – Mike Ott. Steuble can swing over to the left side of the defense and the younger Ott can be stationed at right back. He played this position in a recent friendly scrimmage against Mongolia. But again, he will be away from his natural position in attacking midfield. Vietnam may exploit his relative inexperience in the right flank.
Steuble – Silva – Aguinaldo – De Murga. Amani Aguinaldo has yet to be used in this Suzuki Cup. But perhaps this could be his time to shine and allow Carli De Murga, the consummate utility player, to go to the right back position where he has plenty of experience for both club and country. But will Eriksson want to break up a central defense pairing that has worked so well? Another option is to put Aguinaldo at right back. But that isn't his natural position either.
Steuble – Silva – De Murga – Schrock. Stephan Schrock is no stranger to the right back spot. He certainly has the speed and fitness to go toe to toe with the Vietnamese wingers and wingbacks. But that deprives the Azkals of their most potent wide threat. And it is not Schrock's most favored spot in the formation.
Ramsay – Aguinaldo – Silva – De Murga – Steuble/Schrock. Eriksson can also opt for a 3-5-2 formation that shifts to 5-3-2 on defense. If my memory serves me correctly, this current crop of Azkals has practiced this. Thomas Dooley once said he felt this was the safest system in terms of not conceding. Let's see if Eriksson feels the same.
Whichever option is chosen, this remains certain: the Azkals lineup is heavy on mids and light on defenders. Perhaps the selectors are ruing not bringing in another pure right back like Junior Muñoz. Or giving a chance to Marco Casambre, who can play either left back or centerback.
Ian Clarino, an internationally-experienced centerback with Davao Aguilas, could have also been considered. Or maybe even Nathan Alquiros, a left back who started all the Azkals' games in the Bangabandhu Cup, where they fielded a largely developmental squad.
The Azkals defense will be tested against a Vietnam team that has scored 8 times in four games and have conceded nary a goal. The Philippines' hopes of reaching the final will likely hinge on how well their back four, or three or five, perform.