Malaysia
AFF group stage success push Malaysia up 2 spot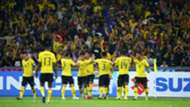 Three wins in the group stage against Cambodia, Laos and Myanmar to add to the single goal win over Maldives before the start of the AFF Championship has enabled Malaysia to gain two places in the latest FIFA rankings released today.
Malaysia could have moved higher had the team not suffered a 2-0 reverse at the hands of Vietnam two weeks ago but the 167th spot remains the highest Harimau Malaya has been this entire calendar year.
Within the Asian Football Confederation (AFC), Malaysia are the 35th placed team with the usual suspects Iran, Australia and Japan dominating the charts with spots in the Top 50 in the world.
Going closer into the Southeast Asia region within the ASEAN Football Federation, Malaysia are still the seventh highest placed team in the region. Vietnam (100), Philippines (114), Thailand (118), Myanmar (139), Indonesia (160) and Singapore (165) are all placed higher than Malaysia.
However should Malaysia achieved a favourable result against Thailand in the upcoming two legged semi-final clash in the Suzuki Cup, it could see Malaysia finally taking over some of their closest rivals within the region.
Follow Goal Malaysia on Instagram